Andover Trailers unveils latest step frame
By Ian Vallely06 February 2017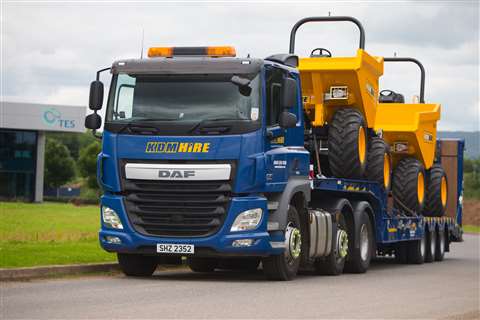 UK-based Andover Trailers has launched a new generation of tri-axle step frame trailers designed to carry a wide range of machines while maintaining a flat deck.
Named the step frame machinery carrier (SFMC), it gives Andover customers access to a high-specification trailer as standard, one that can be further customised with a range of options.
The new model is built to a standard length of 11.9 metres (king pin to rear), is available with a choice of 17.5 or 19.5 inch wheels and tyres – with either BPW or SAF axles – and features a Knorr-Bremse braking system with a Trailer Information Module fitted as standard.
The SFMC has a gross trailer weight of 45 tonnes, which can be increased to 48 tonnes if specified with optional slide-out extensions. This gives the trailer a competitive payload of up to 35 or 38 tonnes respectively.
The trailer combines a full-length flat bed and full-width power-lifting neck ramp. This is designed to make it flexible enough to carry both tracked and wheeled plant, access equipment with low ground clearance, as well as static payloads such as cabins or containers.
This variety of potential loads means that versatile securing capability is essential. The SFMC therefore features 16 RUD swivel side lashings, rated at 10 tonnes; six screw-in RUD lashing rings on the bed, rated at either 14 or 16 tonnes; along with two chain trays. The neck of the trailer features a further six 13 tonne loops set into the floor and two on the neck riser, plus three toolboxes.
Two SFMCs have already been delivered: one to County Tyrone-based KDM Hire, one of the UK and Ireland's largest equipment rental companies; and the second to Wiltshire based paving company, Thornbury Surfacing.