ANSI and CSA standards explained
By Euan Youdale17 April 2018
The new ANSI and CSA standards for MEWPs being introduced in North America are now much closer in their requirements to the European EN280, among others globally. Brandon Tucker, director of engineering at JLG Industries, summarises them for us.
International standards are implemented to define rules for the safeguarding of persons and objects against the risk of accident associated with the operation of Mobile Elevating Work Platforms (MEWPs). These standards specify the structural design calculations, stability criteria, construction, safety examinations and security tests required before a MEWP can be used. They also identify possible hazards while using a machine and describe methods to avoid those hazards.
By complying to the standards, there is an international uniformity to the design and use of machines which better aligns all manufacturers to the global market.
The American National Standards (ANSI) and the CSA Group (formerly Canadian Standards Association) have developed new standards for the ANSI A92 and CSA B354 suites, respectively.
The last change to these standards took place in 2006. As a result, the new standards are a significant overhaul of the previous standards, it's important to understand their impact.
Under the new CSA and ANSI standards, aerial work platforms (AWPs) will be called MEWPs. Rather than classifying the machines by their type (articulating boom lift, straight boom lift, etc.), each MEWP will be classified by Group A or B and Type 1, 2 or 3.
First, each MEWP is classified into a group:
Group A: MEWPs with platforms that move vertically but stay inside the tipping lines
Group B: All other MEWPs, typically boom-type MEWPs where the platform extends past the machine's chassis
Within each group, they are additionally classified into a type:
Type 1: Can only be driven in the stowed position
Type 2: Can be driven elevated but is controlled from the chassis
Type 3: Can be driven elevated but is controlled from the work platform
The new ANSI and CSA standards primarily focus on three areas. Namely; machine design, safe use and training.
ANSI A92.20 and CSA B354.6
These standards focus on the design, calculations, safety requirements and testing methods for MEWPs. They serve as a guide for manufacturers, remanufacturers, engineers and designers.
Specific design requirements that are being addressed include load sensing, stability requirements, tilt sensing requirements, platform requirements and machine markings and manuals. All new requirements only apply to new machines; older machines do not need to be retrofitted to meet the new standards.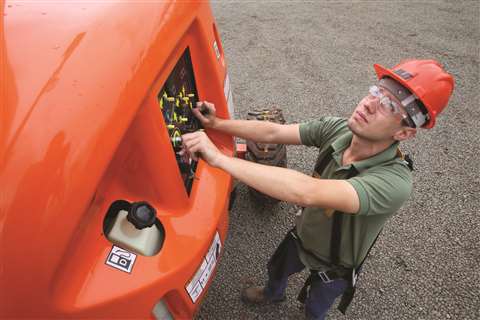 Sustained involuntary operation: Hand operated controls in the platform are required to protect against sustained involuntary operation. This will result in additional protection systems at platform controls
Load sensing: Machines are required to actively monitor load and interrupt normal operations and sound an alarm if overloaded. This will result in new systems to monitor platform loads
Wind force requirements: To be rated for outdoor use, machines must meet stability requirements that include 28mph winds. This may require reduced platform capacities and/or increased weight for additional stability
Pneumatic tyre requirements: Stability considerations for failure of pneumatic tyres have been added. As a result, many machines will only be available with solid and/or foam-filled tyres
Tilt sensing requirements: Machines that could previously only operate on level surfaces can now be used on slopes but are required to have a tilt sensor alarm and function cutout. The system will disable boom and drive functions if the incline surpasses the slope limit
Entrance gates: Flexible devices, like chains, are no longer acceptable entrance gates, and toe boards must be on all areas of the platform
Platform railings: The railing height requirement has been raised for small indoor scissor lifts; to fit through standard doorways, folding rails will replace fixed, non-folding rails on select models
Machine markings and manuals: Machines must be clearly marked with the date of the last annual inspection and should have an updated manual on board that includes all new definitions and required information.
ANSI A92.22 and CSA B354.7
These standards govern the safe use of MEWPs by specifying proper application, inspection, training, maintenance, repair and safe operation.
Safe operation of all MEWP categories will be governed by common guidelines. One of the main requirements is the development of a safe use programme to guide MEWP use as it relates to job site safety. The development of a safe use programme, starts with a site risk assessment and continues with daily emphasis on safety and properly trained personnel.
To develop an effective safe use programme that is compliant with the new requirements, it's important to perform a site risk assessment before starting a job. This assessment should include defining the task, location and timing of the work. Following the site assessment, the MEWP selection process begins and risks (MEWP-related, job-specific, etc.) are evaluated. Lastly, controls are identified, like safe work procedures, proper training, smart scheduling and rescue planning.
Once the safety plan has been developed, it should be shared with everyone who will be on site during the work. The updated standards outline new requirements for many roles as they relate to the safe use program:
Operator: Must be trained and authorised to operate the MEWP
Occupant: Must have knowledge of MEWP use and safety, including fall protection systems
Supervisor: Must monitor MEWP use to ensure the safety plan is followed
Technician: Must perform MEWP maintenance in line with manufacturer's requirements.
ANSI A92.24 and CSA B354.8
These standards focus on training requirements. They provide guidance on preparing MEWP training materials, define how theoretical and practical training should be delivered and identify required elements for proper training and familiarization.
All training must be delivered by a qualified person who is experienced with the classification of a MEWP on which training is being given. This qualified person must be knowledgeable about the laws, regulations, safe use practices, manufacturer's requirements, and recognition and avoidance of hazards.
While MEWP operator training is still mandatory, this requirement now extends to include others who will come in contact with the machine on a jobsite, including supervisors, occupants and maintenance and repair personnel.
Equipment approach
JLG Industries is committed to meeting and exceeding new standards. The research and development team works around the globe to develop, test and produce advanced equipment that improves job site safety on every level. As a result, the company has already developed solutions like SkyGuard enhanced control panel protection, increased wire rope service intervals and load sensing systems which make the transition to new standards compliance as simple as possible.
Group B, Type 3
SkyGuard: A protection system with functional reversal and an audible alarm is already standard on nearly all boom lifts
Wind force requirements: Machines are fully compliant for outdoor use
Load sensing system: In use and proven for more than 15 years in markets where currently required
Wire rope sensors: Historically compliant with redundant rope systems
Tilt angle sensors: When activated due to slope being exceeded, boom functions go into creep speed and drive function is locked out until boom is returned to a position closer to stowed
Foam-filled tyres: Reduces the need for additional counterweights to meet stability test standards
Group A, Type 3
Wind force requirements: Machines will fully comply with the 28-mph outdoor wind rating or have an indoor-only designation
Load sensing system: Hydraulic pressure sensing system, which is simpler and has fewer parts or a strain gauge system
Self-closing gates and toe boards: Will replace chain entrances
Group A, Type 1 or 3
Various aspects of vertical lifts will be impacted by these new standards. Where applicable, modifications will be made to counterweights, available options and accessories, platform capacity and ground controls. A wind-rating designation will also be applied to these units to classify a unit as wind rated or indoor use only.
JLG has multiple options to assist in meeting the new ANSI and CSA training requirements. Through their new AccessReady programme, operators are connected with JLG-qualified trainers nationwide. Proper training will ensure that operators are walking onto a job site with the right credentials. Service and equipment training can also be completed online through JLG University or in person at the state-of-the-art JLG training centre and proving grounds.