Apartment project for North American Crane & Rigging
By Laura Hatton09 July 2015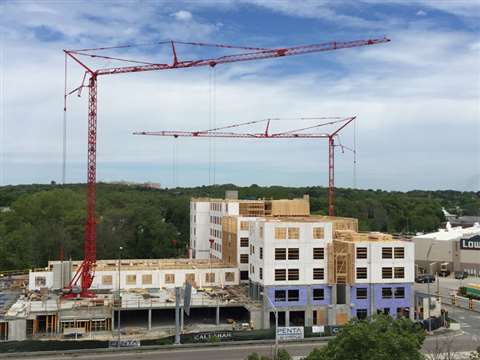 Rhode Island-based North American Crane & Rigging used two Potain Igo T 130 tower cranes to help build a US$34 million apartment complex in Quincy, Massachusetts, USA.
Space at the site of the six storey structure was limited and, as a result, the two self erecting tower cranes had a small working area.
The cranes were supplied by Shawmut Equipment, in Manchester, Connecticut. Kevin O'Connell, Shawmut vice president and sales representative, said, "Since the construction company had very little space to work with, North American Crane & Rigging had a request for cranes that could be installed and perform well in very tight working quarters. The two Igo T 130s offered extremely compact footprints, the ability to manage the lifts via remote control, and more than enough reach and capacity for the job."
One of the cranes was erected adjacent to the job site, while the second was placed on an elevated concrete deck. A 275 US ton (249 tonne) capacity Grove GMK5275 all terrain crane was used to unload and setup the Igo T 130s at the site.
The 8.8 ton (8 tonne) capacity cranes were used to lift wood-framed walls and other materials weighing up to 2.2 tons (2 tonnes) at heights up to 20 metres. The cranes were controlled with wireless remote control.
David White, North American Crane & Rigging business development manager, said, "Saving space and causing as little disruption as we can to a heavily urbanised area such as metro Boston meant significant cost savings for the general contractor, our customer, and the City of Boston.
"We were able to quickly assemble and disassemble the cranes on the job site with very little impact to local businesses and the community. The general contractor expressed that it was very pleased with the cranes' performance and that it will use the cranes again in future developments in the region."
The cranes arrived on site in March. One of them has completed its work and the other will remain on site for about two more months, a spokesperson said.
The apartment building will have a 180 space car park, fitness centre, theatre and pool.