APEX Asia set to double in size
By Murray Pollok18 April 2019
The second APEX Asia show in Shanghai is set to double in size, with more than 90% of the indoor space already booked and outdoor space now being made available.
Forty-four companies have booked their stands for the access equipment show, which will take place at the Shanghai New International Expo Center (SNIEC) on 23 to 26 October, 2019. It will again be co-located with CeMAT Asia and the International Rental Conference (IRC).
Around 92% of the indoor area has been booked, and this space is 50% more than the first show in 2017. In addition, as much as 1,500 m2 of outdoor space will be made available, which is a first for the show. That outdoor zone will also allow suppliers to display their largest machines.
The show organiser, Industrial Promotions International (IPI), said the total size of the exhibition could be almost double that of the 2017 event. APEX Asia 2017 was the largest collection of access equipment ever seen in Asia, and this year's event will break that record. The show is organised by IPI in association with Access International and KHL Group.
The 44 exhibitors booked so far include many of the world's and China's major manufacturers, such as JLG, Genie, Haulotte, Snorkel, Skyjack, Dingli, Runshare, Sinoboom, Eastman, Mantall, XCMG and Zoomlion. There are also a number of first-time exhibitors, including Sant, Fengchi, Sebang, Guorui, Seastar, Fronteq, Yacontee, Palazanni, Weilai and Klubb.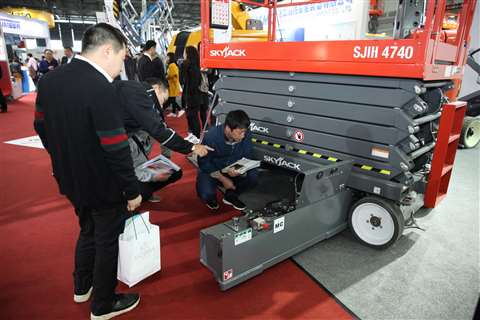 One change from 2017 is that the IRC rental conference will now be held the day before the exhibition, on 22 October, at the Jumeirah Himalayas Hotel, which is located directly opposite SNIEC within easy walking distance.
In 2017 IRC was staged in a temporary conference room within APEX Asia. Moving IRC to the hotel will free up space for the exhibition and allow the 400-plus delegates to focus fully on the conference and then visit the show on the following day.
A full list of the exhibitors, and more information, can be found at www.apexasiashow.com
The latest news on the IRC speaker programme can be found at www.khl-irc.com
CeMAT Asia (http://www.cemat-asia.com) is the largest material handling and industrial automation show in Asia, held every two years and attracting more than 90,000 visitors. It is the major gathering place for Asia's forklift and material handling sector.