APEX Asia triumphs in Shanghai
By Euan Youdale31 October 2017
The first APEX Asia has received strong support from the access industry.
Manufacturers exhibiting at the four-day show in Shanghai, China, told AI there had been a large number of high-quality visitors thoughout the exhibition.
The show is running alongside the well-established CeMAT Asia material handling and factory automation show, 31 October - 3 November, which attracts more than 75,000 visitors.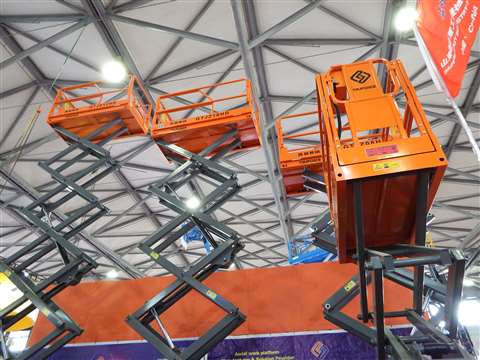 Chinese access equipment suppliers at APEX Asia include Dingli, Mantall, Sinoboom, XCMG, Runshare and Liugong. They join major western OEMs such as JLG Industries, Haulotte, Skyjack and Snorkel. Other exhibitors include Airo, TVH, Skyclimber, MCS and PG Trionic.
There are also less well-known China-based manufacturers at the show, many of them taking advantage of Asia's first access equipment exhibition to look for dealers and partnerships to help grow their brands around the world.
Mike Zhou, chairman and CEO of Eastman Heavy Machinery, which has been in the market for four years and produces slab scissors and boom lifts, said APEX Asia came at a good time for the growing access market in the continent.
"Even though the market is still relatively small, the pace of growth of around 40% in China is attracting companies to the industry. The visitors are a good mix of rental companies from inside and outside China, including Singapore and Malaysia and other Southeast Asia countries.
"For a show to attract this level of attendance first time around is a real sign if success."
Exhibitors were also taking the opportunity to launch new products and services. Snorkel, based in the US, revealed exclusively to AI the day before APEX Asia started that it would be launching its first production facility in Asia during the show.
The 3,000 square metre facility in Jintan, outside Chanzhou, China, opened in 2016 for warehousing and consolidation, now includes assembly lines for Snorkel products for the Chinese market. Production of two electric slab scissors, the S3219E and S4732E, started in August.
Other, less well-established manufacturers were bringing the global industry's attention to their products for the first time. Shandong Chufeng Heavy Industries is showing its range of Truforce slab scissor lifts with working heights from 8m – 14m. Chufeng is the result of seven companies joining forces to create a strong brand that is now seeking partnerships with existing access-related companies outside Asia, as well as signing up dealers globally. In addition to scissor lifts the company also manufactures fixed-based platforms, vertical masts and truck mounts.
Slyvia Wang, marketing director at Chufeng, agreed the slab scissor market in China was becoming highly competitive following new product lines from a large number of manufacturers. "It is not that difficult to produce scissors so there is a lot of competition and not much profit," said Wang, "The best thing to do is join up with foreign companies. We want to reduce costs and improve technology, so we are looking for partners."
Many of the visitors to the show were also attending the International Rental Conference Asia, which was taking place in the same hall as APEX Asia on Tuesday. There were 460 delegates to the one-day conference, which offered a range of high-level speakers from the rental industry and others from manufacturing, including Alexandre Saubot, COO of Haulotte.
Read more about APEX Asia and the conference in articles throughout the week at www.khl.com