APS shows first Isoli products
By Euan Youdale11 October 2013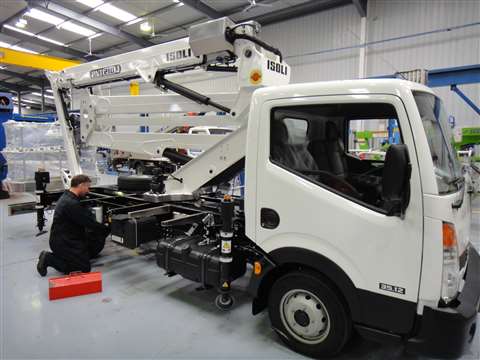 Access Platform Sales (APS) has fitted and tested its first Isoli booms, after becoming exclusive UK dealer in June this year.
The company will now take its demonstrator units on a nationwide tour to showcase their capabilities.
The first UK-installed machines from the Italy-based manufacturer are the PNT 205NH and PNT 210J booms, both on Nissan Cabstar chassis.The 3.5 tonne gross vehicle weight means they can be driven by anyone with a standard driving licence.
The PNT 210J is a dual-pantograph boom with a jib and 360˚ turret rotation, providing up to 20.6 m of working height and 9.7m of horizontal outreach. Its 'H' style outriggers can be deployed in line with the vehicle, for working in confined spaces, or extended for maximum outreach. The platform has a safe working load of 200kg.
Like its larger sibling, the PNT 205NH shares its dual-pantograph boom arrangement which allows work at lower heights without dangerous tail projection into the path of passing traffic, said the company. But is simpler in construction with unrestricted working envelope and fixed H-style outriggers. Its lighter weight gives more payload with a working height in excess of 20m.
Richard Tindale, sales and marketing director for IAPS Group, which owns APS, said: "Our road show will enable customers to see the Isoli product 'in the metal."
The road show sets off from Telford, Shropshire during October and will visit a number of key locations throughout the autumn.