Aquatic mission for Falcon
A Falcon FS 290 has recently been handed over to the Oceania Shopping Mall in Moscow, Russia.
The Falcon Spider has a 29m working height and will make use of its double jib to clean and maintain the inside of the large shopping mall.
The mall is 13,000 square meters, and there are 18.5 millions visitors to its 300 shops every year. With its bright architecture and contemporary design, including a huge cylindrical, 27m high, aquarium placed between the four storys of stairs in the middle of the mall, a panoramic lift is inside it. The aquarium will be the main job for the Falcon.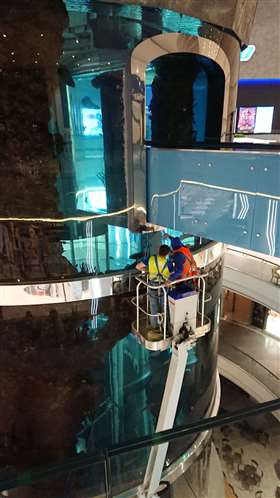 "No other machine could provide this type of maneuverability, to pass through the narrow doors of the building, and give an access to glazed walls of the aquarium," said Brian Falck Schmidt, sales director at Falcon Lifts.
The Falcon Spider FS290 was chosen due to the low ground pressure, the compact design, and the double jib, said the company. The compact transport position and the low weight make it easy to move the model from one mall to another, so it can provide maintenance in several buildings.