Architect hits back at plans to scrap stadium design
By Chris Sleight29 July 2015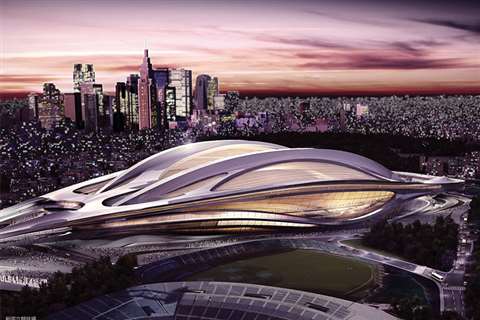 Zaha Hadid Architects (ZHA) has criticised the Japanese government's decision to scrap its plans for the Tokyo Olympic Stadium and start the design process again from scratch. The venue is intended to be the centrepiece of the 2020 summer Olympic Games, and is also scheduled to host key matches in the 2019 Rugby World Cup.
ZHA won the international design competition for the stadium in 2012, ahead of 45 other entries. However, earlier this month Japanese Prime Minister Shinzo Abe announced the Tokyo Olympic Games Organizing Committee (TOGOC) would seek a new design for the venue, as construction costs had reportedly spiralled from an initial estimate of JPY 130 billion (US$ 1.05 billion) to JPY 252 billion (US$ 2.04 billion).
The venue was originally commissioned to replace the existing National Stadium, which was opened in 1958 and which was the centrepiece of the 1964 Olympics. At the time Zaha Hadid's design was unveiled, the only major sporting event slated for the new venue was the 2019 Rugby World Cup. However, the design formed part of Tokyo's bid to host the 2020 summer Olympics, which it was awarded in September 2013.
The design has received criticism in Japan since it was unveiled, with local architects commenting on its perceived excessive size. However, the decision to scrap the design was said to be based on costs.
In response to this, ZHA has highlighted flaws in the tendering process. The practice said a two-stage process was used for the first time in the procurement of a public building in Japan, whereby contractors were appointed before they had submitted costs.
The architect said in a statement, "As ZHA has considerable experience in this process, we advised the JSC [Japan Sports Council] that working to an immovable completion deadline against the backdrop of rocketing annual increases in the cost of building in Tokyo, and in the absence of any international competition, the early selection of a limited number of contractors would not lead to a commercially competitive process.
"Our warning was not heeded that selecting contractors early in a heated construction market and without sufficient competition would lead to an overly high estimat3e of the cost of construction."
A report on the propsed redevelopment of the National Stadium site was published in June 2014. Click here to read the article (registration required).