Arcomet named as Terex distributor
By Christian Shelton01 October 2018
Terex Cranes has announced that Belgium based self erecting and tower crane sales, rental and service company Arcomet will be its authorised distributor for tower cranes in Germany.
Arcomet will provide equipment sales for Terex's full range of flat top and luffing jib tower cranes.
Arcomet has three offices in Germany: one in Zülpich, near Cologne; one in Niemegk, near Berlin; and one in Negenborn, near Hannover. According to Terex, Arcomet also has an experienced sales forces for the German market.
"We are more than proud to have Arcomet as our distributor in Germany," says Marco Gentilini, Vice President & General Manager for Terex Cranes. "Arcomet grew out to be the largest independent tower crane rental company in the world, has one of the strongest experiences in the construction industry, and has earned a solid reputation." He adds: "With their investment in Germany into multiple locations, service technicians and parts stock, I believe that our product range paired with Arcomet's capabilities will meet our German customers' needs."
"We are very excited about our distributorship with Terex Cranes, they have been a long standing partner which we fully trust," says Sven Vrancken, Commercial Director for Arcomet. He adds: "Their wide range of products, their ability to act quickly as well as their outstanding application engineering make me confident that Terex Cranes and Arcomet will together be able to make our German customers successful."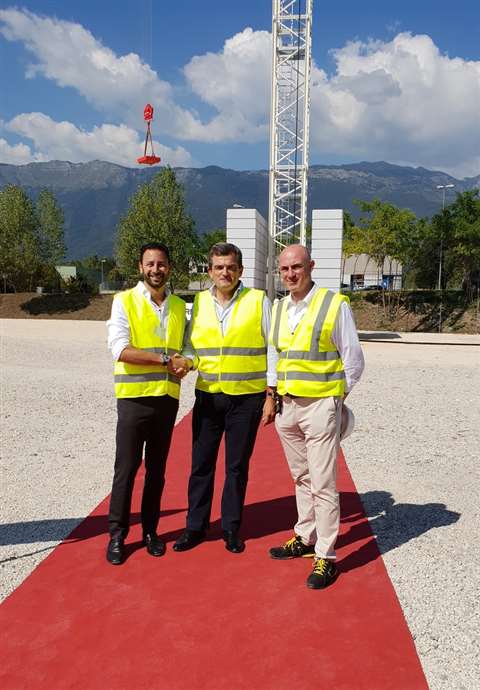 Steve Filipov (president, Terex Cranes), Philippe Cohet (CEO, Arcomet), Marco Gentilini (vice president and general manager,Terex Cranes)