Articulating cranes: A range of change
By Alex Dahm16 November 2020
All manufacturers of articulating or knuckle boom cranes have been affected by the virus. Its impact has been strong, gradually hitting all world markets and reducing the number of orders for new cranes, as reported by Italian manufacturer Fassi Gru, for one.
It is reflected in the first half year sales figures. At Palfinger sales were down 18 per cent and Hiab owner Cargotec Group (three crane manufacturers) posted a 9 % decline. For just the second quarter of 2020 Hiab sales, at €243 million, were down 32 % on the €358 million of the same period a year earlier. "Orders received improved month-by-month after a weak April," says Mika Vehviläinen, Cargotec CEO, "which provides reason to believe that the bottom was reached in the second quarter for orders received."
Practically, the virus has meant big change. Early on in the pandemic Italy, home to many articulating crane manufacturers, was hard hit. At Fassi, for example, "We had re-organise our way of working. We had to introduce a strong safety protocol to protect our employees. With customers we have increased our use of remote conferencing to keep in touch. Similarly, with service and training we have had to re-think they way we work, using different tools," says spokesperson Silvio Chiapusso.
Elsewhere in Europe, at Hiab, after closing assembly units earlier in the year, all were back in operation by June and the supply chain was normalising, the company says. "Despite the crisis, we systematically continued to execute our strategy. We increased our investments in digitalisation and projects to improve the cost and eco-efficiency of our products. During the quarter, we also continued to develop our supply chain and organisation with the divestment of our share in the RCI joint venture in China, and closing down our assembly unit in India," explains Mika Vehviläinen.
Positive impact
Another notable effect of the pandemic, according to Hiab, is that customers have become more interested in remote maintenance services. Sales in the service portion of group's business have continued to increase through the crisis.
What are customers looking for in their new cranes? Fassi says, "Systems to assist the operator to work with more safety, to be more efficient, and to have a more reliable product. To do this we have to use all the technology in our hands."
Two things customers are looking for are quieter operation, so cranes can operate in cities at night, and for cranes to produce less pollution at the point of operation. Several manufacturers offer or are working on electric versions of their cranes.
Hyva Benelux has delivered its first electric 16R Hyva Kennis e-Power rolloader crane. The company says it will be a game changer. It will be used in the Amsterdam area, around Schiphol Airport where strict environmental rules and regulations need to be observed, Hyva says. Powering the crane electrically offers improved energy efficiency and lower environmental impact.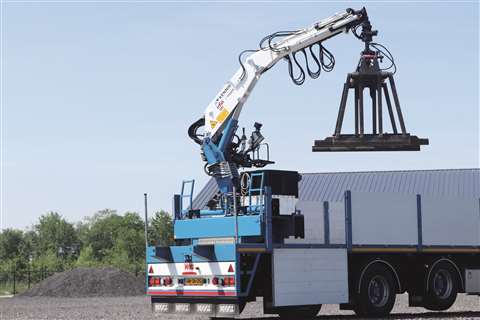 Clean power
"It also provides a much healthier working environment for crane operators as they no longer need to work with the noise and exhaust fumes from a diesel engine. The crane can be operated early in the morning or late at night and still comply with the current regulations. With these performance advantages and longer operating times, [customer] Combex [Bouwlogistiek] can differentiate its fleet and increase productivity and flexibility," Hyva explains.
The power system consists of an electric motor, battery pack and an electronic control system. The batteries can be recharged while the truck is running on the road. Also, the crane can be operated with power from the battery when the truck engine is switched off.
Allard Tadema, Combex Bouwlogistiek technical director, commented, "Following extensive research and positive feedback from many drivers, we are very pleased with this new purchase. We are always looking to invest in the future, and we are confident that this Hyva Kennis e-Power solution will be a significant step in lowering our environmental impact."
The trailer has an On Road Recharge (ORR) system to give enough battery capacity for a day's work.
New integrated onboard technology from Fassi and Volvo trucks allows an operator to manoeuvre a truck from outside the cabin via a radio remote control transmitter. A Fassi V7 radio control unit is used to operate a Volvo truck with a steering wheel that eerily turns on its own.
Integrated technology
The system is useful where access to a site is awkward and the operator is helped by being able to reposition themselves for the best view to manoeuvre the vehicle.
Using the new Drive by Fassi system, combined with the Exster interface developed by the Swedish company, allows the truck to be driven reliably and safely at up to 5 km/h, Fassis says. It is a development of Fassi's FX-Link, which manages vehicle functions from the radio control unit and allows the operator to check the condition of the crane directly from the truck dashboard.
Four requirements are for the Drive by Fassi technology are: the FX-Link system; one of two electronic control systems – either the FX500 or FX900 – installed on the crane; the V7 Fassi radio control unit; and a Volvo Trucks vehicle from the FH or FM series fitted with the Exster (External Steering Remote Control) interface and assisted Volvo Dynamic Steering.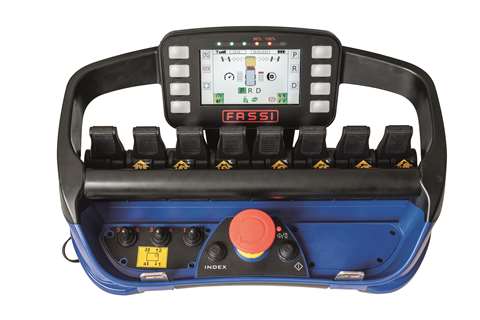 For extra safety the truck has emergency stop buttons position all around it on each side. It won't move with the crane unfolded or the stabilisers deployed.
From manufacturing
Generating less pollution is also a growing requirement on the manufacturing side. Hiab's Mika Vehviläinen says, "we aim to reduce the CO2 emissions of raw material sourcing and product use phase by at least 50 per cent from the 2019 levels by 2030. In addition, we aim to be carbon neutral in our own operations by 2030."
Something else to help manufacturers provide a better product and service is Hiab FrameWorks. The company describes it as a crane installation system to make working with Hiab as hassle free possible. FrameWorks is especially relevant now in the time of the Covid-19 pandemic. "What is important for us, is to get our customers back in business as fast as possible and with the least burden possible," says Kent Linberg, FrameWorks division product manager.
FrameWorks aims to reduce overall complexity for customers in "being able to access high quality finished products, as easily and as hassle-free as taking a ready-made product from the shelf."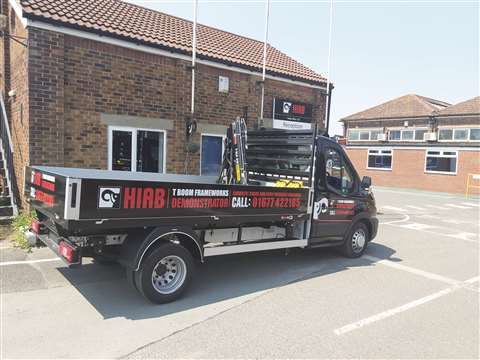 Cranes covered by FrameWorks are from small to large and the T-Cranes and T-Bodies elements are given as examples of how simplicity and a standard setup can be made available to the customer in a short time. OEM truck and vehicle manufacturers, and body builders can benefit from T-Bodies products as engineered solutions designed to fit the most common truck types.
Entire rear beds allow Hiab cranes to be carried in the most effective way, the company said. T-Bodies come in a kit said to be simple to mount using basic tools and working to a set of instructions. After a new truck is delivered there is time pressure on the installation. Different designs being ready and available means customers lose less time. There is no need to find multiple suppliers and make ad-hoc choices which vary for each installation.
T-Bodies gives OEM manufacturers a choice of kits made exactly for their brand, including the administrative detail of fitting in with their ordering systems and configurators. Customers can then get necessary certifications directly from Hiab which reduces paperwork.
Swiss civil engineering company Rust + Co was already a Palfinger customer when it decided to add another crane. The family-owned company added a PK 37.002 TEC 7 to help transport construction machinery. Rust + Co was started more than 70 years ago. Since 2011 it has been run by third generation family member Peter Rust Junior.
F345RB new from Fassi
Latest Fassi crane has a wide field of application, including outside the construction industry.
Fassi Gru's newest model is the 33.2 tonne-metre rated F345RB. Its maximum hydraulic outreach with jib is 20.9 metres. Three key features are that it is versatile, compact and light, the manufacturer says. It is in the XE-dynamic series and has continuous slewing. Versions with between two and eight boom sections can be specified. All the jib combinations available for other Fassi models in the same category are also available for the new model.
Its specification includes ADC (Automatic Dynamic Control), the D850 digital hydraulic valve bank, the RCH/RCS radio control and the FX500 control unit. The list also includes FSC (Fassi Stability Control), CPM (Crane Position Monitoring), FS (Flow Sharing), XF (Extra Fast), MPES (Multi Power Extension System), XP (Extra Power) and ProLink (Progressive Link). Options include the D900 valve block and V7RRC radio remote control.