Ascendant launches all terrain
By Euan Youdale04 March 2016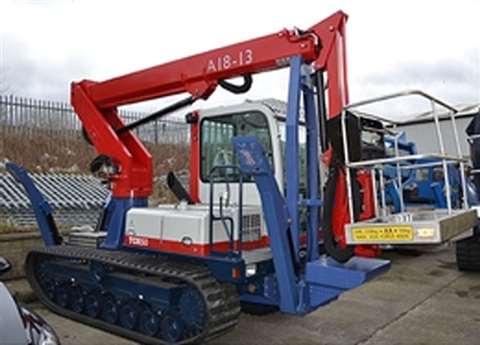 UK-based Ascendant Access, the manufacturing division of Facelift, has launched the 18m telescopic A18-13TJ platform mounted on an all terrain Takeuchi TCR50 tracked carrier.
Nicknamed the 'Swampmaster' it is designed for operators who need to reach inaccessible locations for overhead line maintenance and installation, for example, as well as surveying work.
The machine weighs 5.5 tonnes and benefits from having wide tracks which gives the machine a total ground contact area of 2.25m. This means the bearing pressure during travel is extremely low which is ideal for wet or soft ground conditions. The Takeuchi chassis has a travel speed of 9km/h with 30% gradeability. The unit can be levelled with hydraulic outriggers on a 20 degree transverse slope.
The Tekeuchi has a fully enclosed heated cab with Roll Over Protection Systems and Fall Over Protection Systems (ROPS & FOPS), for potentially cold or remote locations, for example, after storm damage.
The platform features 18m working height and outreach up to 13m. The standard tubular cage has powered rotation and a 230kg cage capacity allowing room for two operators and tools. The easy to position telescopic boom features a versatile 125 degree jib. The A18-13TJ is a standard production unit featuring full pressure hydraulic controls for reliability in tough conditions as well as ease of maintenance. This gives the owner a very high spec machine which is affordable and practical to own.