Ascendant truck mount for Warren
By Euan Youdale25 June 2018
Warren Access has taken delivery of an 18m working height Ascendant A18-13TJ truck mounted platform.
The truck is completely hydraulic and has been purchased from UK distributor Skyking. Warren chose the unit for the outreach from its 3.5 tonne GVW chassis. The machine has a 230kg capacity, while platform size is 0.73 x 1.4 m, made of tubular aluminium.
"In the real world, effective sideways reach is often more important than the ultimate working height and our new Ascendant truck reaches further with a full load in the cage than any competitor trucks out there. The cage is also flat bottom, making it ideal for roof work," says a Warren spokesman. The first job is a roof inspection for the rugby union Newcastle Falcons' ground.
The typical wheelbase of the machine is 3400mm, full stabiliser spread is 3.6m, and spread in one-side jacking mode: 2.8m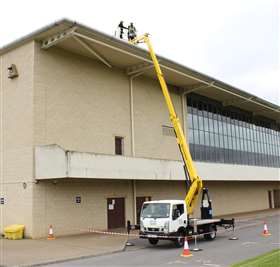 Gerry Baird, Newcastle Falcons stadium service manager commented, "We were pleased to be the first customer of Warren Access to hire their new 18m Ascendant which only arrived in their fleet this morning. The small footprint of the machine is a real benefit, plus the flat bottom cage and the fly jib. We have tried many different machines in the past to inspect the roof and this machine has by far been the most versatile. We will definitely be hiring it again soon."