ASEAMAC and IPAF collaborate
By Euan Youdale01 February 2019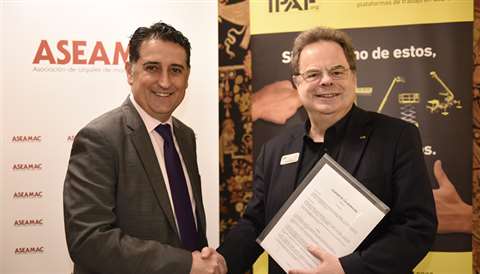 The Spanish Association of rental of machinery and equipment (ASEAMAC) has signed a collaboration agreement with IPAF to allow the exchange of information on activities and projects that are beneficial to both.
As part of the agreement, members of ASEAMAC can join IPAF at a subsidised rate. Once affiliated, ASEAMAC members can provide IPAF training by becoming an IPAF Training Centre or through independent instructors trained by IPAF senior instructors.
In both cases, IPAF will ensure training of the instructors is continuously updated. Under the agreement, IPAF member rental companies can become members of ASEAMAC at a reduced price too, once conditions have been met.
IPAF will also be able to provide speakers or panellists at its conferences and meetings relevant to the topic of the event. The two organisations will collaborate in safety events and campaigns and will publicise joint enterprises through both their communications channels. In addition, both will benefit from special pricing at each other's events and activities.
The agreement, which was signed by the president of ASEAMAC, Juan José Torres, and the CEO of IPAF, Tim Whiteman, aims to collaborate on issues common to both entities.