Asia to see growth in megacities
By Andy Brown06 March 2019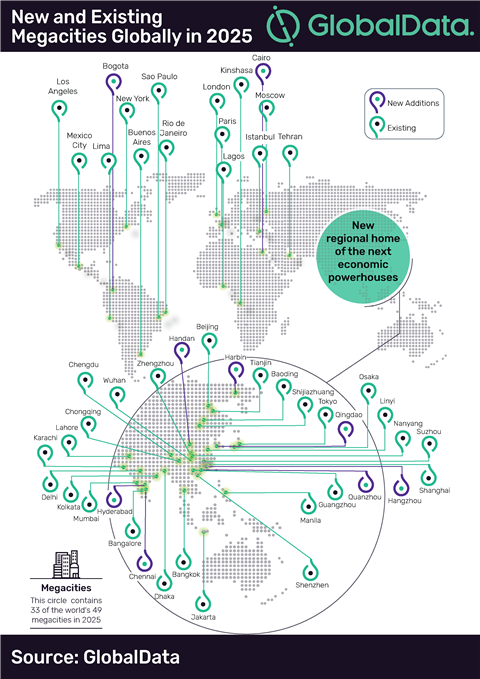 Strong economic growth and urbanisation will lead to an increase in the number of megacities located in Asia, according to information provided by GlobalData.
It is predicated that by 2025, 33 out of the world's 49 megacities will be located in Asia – up from 26 of the world's 40 megacities in 2018.
A megacity is defined as a city with a population in excess of ten million people.
Of the nine cities that are projected to become megacities between 2018 and 2025, five will be from China (Handan, Hangzhou, Harbin, Qingdao and Quanzhou), two from India (Chennai and Hyderabad) and one each from Egypt (Cairo) and Colombia (Bogota).
Asian megacities are expected to contribute 9.4% to global Gross Domestic Product (GDP) and 6.6% to the total world population in 2025.
Tarun Bisht, economic research analyst at GlobalData, said, "Though Asian megacities dominate the list of megacities they are far behind their counterparts from the developed world in terms of per capita income, employment generation and living standards.
"Elevating productivity and creating job opportunities by harnessing favourable demographic characteristics should be the key focus areas to create sustainable megacities.