Associations in standardisation initiative
By Sandy Guthrie13 June 2016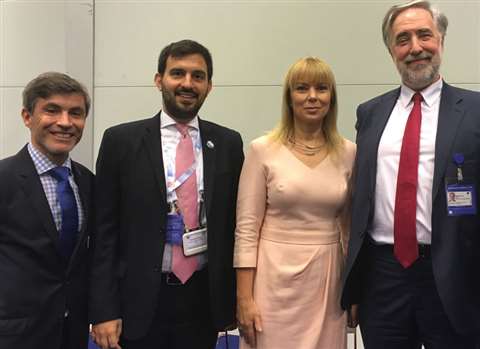 A joint initiative on standardisation has been signed by three European construction sector associations with European Commissioner Elżbieta Bieńkowska.
The associations – Construction Products Europe, the EBC (European Builders Confederation) and FIEC (European Construction Industry Federation) – said they offered the expert contributions of their members for the benefit of European standardisation to respond better to "both the practical needs of the businesses in the sector and the legal certainty that is required for the use of standards".
The representatives joined Commissioner Bieńkowska in Amsterdam, the Netherlands, to co-sign the Joint Initiative on Standardisation.
The initiative is said to set out actions to modernise, prioritise and speed up the delivery of standards by the end of 2019, respecting the needs of their users. It marks the beginning of a dialogue between all the stakeholders involved in standardisation – European and national standardisation organisations, industry, civil society, Member States and the Commission – who gathered at the Europe Building to celebrate the agreement, in a ceremony organised by the Dutch Presidency.
The three associations said that standardisation had a significant impact on the construction sector. Construction Products Europe represents the manufacturers of construction products, while EBC and FIEC represent construction enterprises of all sizes – from one-person micro firms and SMEs to large, globally active contractors – across Europe.
Christophe Sykes, director general of Construction Products Europe, said, "Standardisation helps increase the efficiency of our industry, and for construction products it also has a regulatory purpose.
"Finding the right balance between these two elements is key for a healthy European construction products market."
Riccardo Viaggi, secretary general of EBC, said, "SMEs are profoundly impacted by standardisation. We welcome the fact that the joint initiative encompasses such a large representation of stakeholders – including the least represented – and gives new momentum to standardisation.
"It is important to ensure that the actions suggested in the initiative are implemented, respecting the specific needs of the construction sector."
Ulrich Paetzold, director general of FIEC, stressed, "In addition, it is important to ensure that European standards are not designed only to comply with the mandatory requirements of the Construction Products Regulation, but also to ensure that all other information necessary for construction enterprises to select the right products is available, so that they can be sure to respect their statutory, technical and contractual obligations"
Specific action
As part of the joint initiative, the three construction sector associations intend to develop a specific action later in the year to improve the quality of standardisation in construction.
This action is designed to complement the joint initiative and it is said that it would deliver specific improvements, by aiming to reduce overlapping measures and fill existing gaps, among other things.
The associations said that their collaboration within the joint initiative would provide a good basis for mutually beneficial solutions benefiting both the sector and its public or private clients.