Astaldi progresses towards targets
By Thomas Allen08 August 2017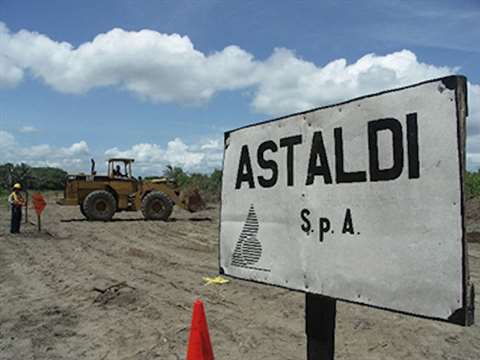 In the financial results for the first half of 2017 released by Italian-based contractor Astaldi, the company has announced a 7.4% increase in revenue, compared to the same period last year, to more than €1.5 billion.
Filippo Stinellis, CEO of Astaldi, said, "Important results were achieved during the first six months of the year, both from a business and financial viewpoint, which mark real progress towards the targets we have set ourselves."
He added that progress made with Astaldi's asset disposal programme and the launch of its debt refinancing programme had helped the company to grow in line with its Strategy Plan.
The Italian market was said to have generated 24% of Astaldi's operating revenue in the first half of 2017, due to a good performance in the transport infrastructures segment, while 76% of operating revenue came from international activities. Most notably, the company saw a good performance in Canada, Chile, Turkey, Poland and Russia.
The EBITDA (earnings before interest, taxes, depreciation and amortization) margin was recorded as 14.3%, with an EBITDA of €214.4 million. This represented a 7.4% increase on the first half of 2016.
The company's EBIT (earnings before interest and taxes) also increased compared to the same period last year, rising by 15.6% to €184.7 million, with the EBIT margin standing at 12.3%.
Net profit leapt up by 76.7% compared to the first half of 2016, to over €55.7 million. Though, it should be noted that this included the positive effects of the company's asset disposals.
Astaldi's total order backlog in the first half of 2017 was worth more than €27 billion, of which there were €18 billion of orders in progress, €8.5 billion of additional projects secured and to be finalised, and €1.8 billion of new orders.
Total net financial debt was said to be €1.272 billion, down from the €1.374 billion recorded in the first half of 2016, but up on the December 2016 figure of €1.088 billion.