ATG adds radial tyres
By Sandy Guthrie20 April 2018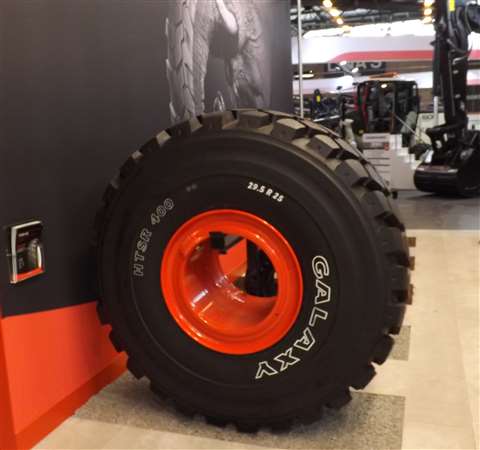 The Galaxy range of radial OTR (off-the-road) tyres are being introduced for the first time and are on show at Intermat 2018.
The range, from Alliance Tire Group (ATG), is said to have been created specially to keep pace with the challenging needs of high pressure job-sites.
The company said that the Galaxy LDSR 300 E3/L3 was designed for loaders operating in extreme conditions. The tyres claim superior cut resistance and minimum heat build-up, which ATG said resulted in excellent durability.
ATG said that transportation of heavy loads demanded excellent stability and robustness. Sturdy radial construction coupled with a strong sidewall protector provides the LDSR 300 with superior strength and endurance to withstand challenging terrains, it said.
Premium tread compounds were said to provide excellent protection against lug-tearing and chunking, helping the machine to perform efficiently without any downtime. An S-shaped tread pattern with stepped lugs claims optimal traction and enhanced self-cleaning assuring high productivity.
High traction and minimum heat build even at high speeds means the HTSR-400 is the perfect choice for dump trucks, according to ATG, having been built for dump trucks that face extreme environments while hauling heavy loads.
High tread depth ensures consistent traction and greater cut resistance, the company said. The presence of a special compound ensures minimum heat built-up while performing longer runs. It also claimed that superior cut and chip protection with optimised belt design provided excellent durability resulting in reduced downtime.
The MGSR 200 G-2 is designed for graders, claiming high traction and stability.
The Yardmaster Radial IND-3 is said to be ideal for heavy tonnage forklifts that perform longer cycle of operations on demanding surfaces at higher speeds.
The Galaxy radial OTR range is available in the most popular sizes and will be available from the third quarter of this year.
ATG is showing its Galaxy brand on the back of a recently-launched advertising campaign which it said signalled its investment in the construction and material handling segments.
ATG has been a fully-owned subsidiary of The Yokohama Rubber Company (YRC), Japan, since July 2016.