Atlas Copco weathering Brexit
By Thomas Allen28 November 2019
Atlas Copco Power Technique UK has seen a levelling off of demand from UK rental companies in recent months, according to Kevin Prince, General Manager of the division.
At an event celebrating Atlas Copco's 100-year anniversary of operating in the UK, he told IRN that Brexit uncertainty was largely to blame for a slowdown in the UK construction sector.
"This has had a knock-on effect for rental companies, who have seen a drop in equipment utilisation rates and are therefore holding off on investing in new equipment," Prince said.
It is hoped that Brexit will be over and done with before long, so that the UK can move on.
Another challenge highlighted by Prince was the phasing in of EU Stage V emissions regulations.
Atlas Copco has until mid-2020 to buy in non-compliant engines, and until the end of 2020 to sell equipment fitted with these engines. So the company must decide how many non-compliant engines to invest in.
At present, demand from UK rental companies for Stage V compliant equipment is relatively low since there are few low-emissions zones. This is expected to change though.
"As emissions zones are introduced in other major cities in the UK, contractors will be obliged by legislation to use Stage V machines, meaning that rental companies will want to supply them," said Prince.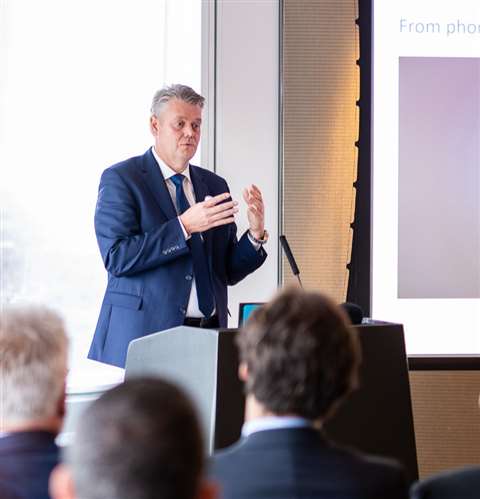 At the centenary event, Atlas Copco's CEO Mats Rahmstrӧm spoke of major trends in the industry – not just in the UK but across the world.
Among them was of course digitalisation. The manufacturer is increasingly adopting smart technology that allows data to be collected on its equipment, with 130,000 of its compressors now connected.
This creates the potential to improve operational efficiency and provide predictive maintenance. And the roll-out of 5G (fifth generation mobile networks) will broaden the scope of such applications.
The topic of the skills shortage was also addressed, with Alex Bongaerts, Vice President Holding and Finance Director Atlas Copco Airpower, speaking about the company's 'Year in the Industry' initiative, which offers university students the opportunity to spend a year working at Atlas Copco during their studies.
Atlas Copco, founded in 1873, entered the UK market in 1919. It now generates revenues of around £1 billion and employs 2,500 people in the UK. The company's rental business, Atlas Copco Rental, was founded in 2004 when Atlas Copco UK acquired Scotland-based specialty services company Kolfor Plant.