Attachments: One machine, many functions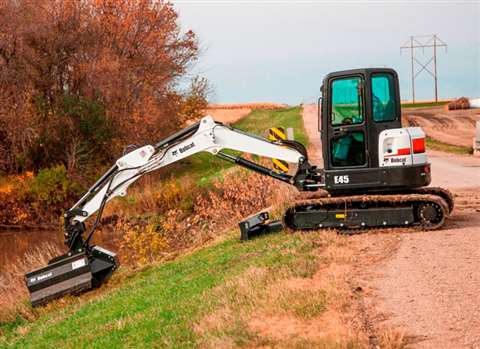 Attachments can open up a world of possibilities for machines such as excavators, loaders and telehandlers, turning a single piece of equipment into a multi-functional tool.
A prime example of just one machine performing a variety of tasks using an assortment of attachments can be found at the waterways and shipping office Wasserstrassen- und Schifffahrtsamt (WSA) in Verden, Germany.
The WSA is a division of the General-Directorate for Waterways & Shipping (GDWS), which is responsible for the maintenance of 333km of federal waterways – namely the Weser, Aller and Leine rivers. This involves reinforcing embankments, installing and removing materials, loading and unloading wood, and transporting shoring elements, among other jobs.
The office's obligations are all carried out from the Schwarmstedt pontoon at the building yard in Hoya. There, an Atlas 340 LC excavator has been equipped with a number of different Atlas grabs and buckets to carry out tasks that range from riverbank reinforcement to wood clearing.
Attachments used by the excavator include the E 75.32 clamshell bucket, with a capacity of 1,000 litres; the E 772 orange peel grab, with five grippers and a capacity of 800 litres; the G 742 ditch bucket, with a width of 2,200mm; the E 624/2V wood grab, with a capacity of about 1,000 litres; and the K710 SW load hook, which can carry up to 7 tonnes.
Number of uses
To take one example, the orange peel grab alone has a number of uses, including the placing of rocks to stabilise embankments and the moving of wood taken from forest areas along the rivers.
Such heavy duty requirements make it necessary for this attachment to withstand high dynamic forces, such as when rocks are tossed into position with a flick of the grab.
Quick and efficient changing between the different grabs and buckets is made possible by Atlas' T 722 quick-change device, which is forked and equipped with a low-pressure locking mechanism.
The grabs themselves are moved by Atlas' E 732.2 rotator device, which uses two rotary motors – without grab cylinders.
Two special features made by Atlas that were said to give the machine an advantage are the hose kit with couplings and the quick-change joint plate.
As a result of developing all the technology in one place, Atlas said the respective engineering teams have been able to co-ordinate their efforts to create a well-aligned machine. This has meant that the weight of the equipment could be optimised and the load capacity increased.
Attachments are also being put to good use in another German project.
The demolition company Plannerer has been chosen by the German government to help with the dismantling and replacement of 300,000 bridges across the country.
To carry out the job, Plannerer added Mantovanibenne's CR60 and CR80 concrete crushers to its arsenal.
Thanks to the double central pin design, cylinder thrust is leveraged so that a maximum of force is delivered through the jaws' tips. Then, once the concrete is penetrated, the new jaws on the CR60 – which have been specifically designed for concrete bridge demolition – are able to cut through steel reinforcements with their resistant blades.
In recent decades, Mantovanibenne said it had been investing in cutting-edge technologies and the expansion of its production sites, where it produces fixed and rotating pulverisers, concrete crushers, scrap shears, grapples, multi-systems and modular pile-breakers, among other excavator attachments.
Flail mower
The construction equipment manufacturer Doosan Bobcat has also been developing new attachments for excavators. Its 30FM and 40FM flail mower attachments can be used for cutting and shredding vegetation, branches, thick grass and small trees in a variety of tight and tricky spots.
The flail mowers highlight the versatility of a compact excavator, making use of its long reach and manoeuvrability to access hard-to-reach places, such as hillsides and riverbanks.
The 30FM model was designed for use on Bobcat's E32 and E35 excavators. It has a working width of 762mm and hydraulic flow of 46 to 74 litres/m.
The 40FM model, which was designed for use on Bobcat's E45, E50 and E55 excavators, has a working width of 1,016mm and hydraulic flow of 53 to 85 litres/m.
Both flail mowers offer a high output power, with the ability to cut trees and branches up to 10cm in diameter. And with their robust build, the mowers are said to be able to tackle tough environments and uneven terrain – the compact deck allows them to manage various ground contours, maintaining surface contact for efficient cutting.
The mowers offer bi-directional rotation and the reversible, spiral mounted triple-knife design helps to deliver the smooth cutting action that is necessary to rip through both hard and soft woods, grasses, vines and brush, said Bobcat.
Uptime is maximised by the fact that the drive motor does not use belts, chains or gearboxes, and heavy-duty flanges on both sides of the rotor protect the drivetrain from dust and debris.
In terms of safety, side chains have been installed to help deflect and contain debris that could otherwise be thrown out during operation, and the featured rotor brake slows the mower down from full speed to stationary within seven seconds of the flail mower hydraulics being deactivated. Also, lift and tie down points ensure secure handling and transportation.
These two new attachments are said to complement related attachments, including the new high-torque forestry cutters from Bobcat.
Doosan Bobcat EMEA (Europe, the Middle East and Africa) has also extended its excavator quick coupler offering for seven of its compact excavators, from the E25 up to the E55 models.
The new hydraulic pin grabber coupler is available as a factory-installed option or as an aftermarket product, and complements the existing full range of mechanical couplers from Bobcat, including the Kalc and Lehnhoff systems.
One key benefit is the triple lock design, which provides greater safety, exceeding the ISO 13031 norm and complying with all safety standards in the industry in Europe and the UK. In the event of a hydraulic cylinder failure or hydraulic pressure loss, powerful springs will keep the attachment connected.
The curl-to-release protocol is an additional safety feature that requires the attachment to be in the fully curled position before the changeover process can start. In addition, an acoustic alarm sounds when an attachment is being released, warning nearby workers.
The robust yet compact design ensures maximum breakout force, said Bobcat, which added that the small number of components and lack of greasing points meant that minimal maintenance was needed.
With this pin grabber coupler, the operator simply has to activate two switches in the correct sequence and then move the joystick in order to connect to a widely available range of pin-on attachments without leaving the cab, providing greater comfort and higher productivity.
Increased safety
Rototilt has also introduced a new generation of machine couplers that are said to increase safety and service life while maintaining excavation geometry.
By integrating the company's ICS (innovative control system) SecureLock locking system into the couplers, Rototilt said it had eliminated the risk of attachments becoming loose and swinging or even dropping.
Sven-Roger Ekström, product manager, said, "Our machine coupler means we can offer contractors an optimised package with machine coupler, tiltrotator, control system and tools. All parts of the chain are designed for harsh conditions and to interact with each other."
The couplers are manufactured with a shell of quenched and tempered cast steel and equipped with a wide attachment for long service life.
Because of their heavy-duty locking wedge design, the couplers are play-free, well protected and have few component parts – so there is less scope for things to go wrong, the company said.
Having undergone extensive testing both in the field and in an advanced breaking rig in the laboratory, the first of the new couplers to be launched are for Rototilt's S60 and S70 buckets – available in variants with and without SecureLock.
Along with its new coupler, Rototilt has also launched the compact R3 tiltrotator.
The company said the lightweight attachment was designed for the increasingly popular 6 to 12 tonne segment.
It comes with SecureLock, a high-flow function and – as with other models in the R series – an integrated swivel, which has a robust design capable of executing large jobs. The high-flow swivel solution makes it possible to increase flow further by up to 80 litres/m. In fact, the integrated swivel can handle a 16% greater breakout force than its predecessor, the RT30.
"We have subjected the R3 to gruelling field trials, over a long period, after which our test drivers have reported perfect results," said Ekström.
Railway grab
Another company that has been improving its existing attachments is Engcon. The Swedish-based manufacturer of tiltrotators has updated its GR20RR railway grab in response to customer views and requests, according to Fredrik Jonsson, head of research and development.
The new GR20R2 is a stronger attachment that is specially modified for handling rails and railway sleepers. The grabs themselves are angled downwards by up to 42°, making it easier to grab and handle objects.
Composed of high-strength steel with a hardness of 400 Brinell, the sturdier grab arms offer a longer service life. They are also fitted with supporting bosses for more stable control of loads, and the thicker walls on the grab cylinders enable them to handle higher hydraulic pressures.
The GR20R2 is suitable for use with Engcon's Q-Safe quick hitch and can therefore also be fitted with EC-Oil for automatic connection of hydraulic tools such as ballast tampers, sleeper layers, timber grabs and compactors.
Engcon has also been collaborating with Leica Geosystems to develop an auto tilt function on its tiltrotators.
The iXE CoPilot is used in combination with the excavator's 2D and 3D guidance system, Engcon's DC2 control system and its ePS (Engcon positioning system) to enable the tilt function on a tiltrotator to be handled automatically.
To begin with, the excavator's guidance system creates a digital, 3D drawing of the area to be dug. The drawing is then displayed on a large screen in the cab, which also shows the operator the position of the bucket, where to dig and what depth and slopes are to be achieved.
Jonsson said, "Automated excavator functions are becoming more common and as the leading manufacturer of tiltrotators we believe it makes sense for us to contribute with our technology to increase profitability still further."
iXE CoPilot meets the safety requirements of EN 13849-1: 2016 and, for safety purposes, the operator has the ability to regain control of the digging system and tiltrotator at any time.
The system is available on Engcon's EC209, EC214, EC219, EC226 and EC30 tiltrotator models.
Long reach
Kobelco is expanding its product offering with two new attachments. The new long-reach attachment from the Japanese-based firm is said to be ideally suited to dredging, levelling, landscaping and other long-reach operations where access using a standard excavator isn't possible.
The new attachment is currently available on the SK210LC, with a bucket capacity of 0.45m3 and maximum digging reach of 15.82m, and the SK2 60LC, with a bucket capacity of 0.4m3 and maximum digging reach of 18.53m.
Alongside this, Kobelco's new two-piece boom enables medium-sized machines to work across a wider range, even in compact spaces, and is intended for applications such as groundworks, drainage and preparing trenches for utilities.
Designed to provide smooth hydraulic operation and increased fuel efficiency, the two-piece boom is available on the SK85MSR with a maximum digging reach of 8.01m and digging depth of 4.59m; the SK140SRLC, with a maximum digging reach of 8.80m and maximum digging depth of 5.71m; the SK210LC, with a maximum digging reach of 10.07m and digging depth of 6.42m; and the SK260SRLC, with a maximum digging reach of 10.36m and digging depth of 6.99m.
Another range of attachments that are said to offer greater versatility are Ajutech's Viper-branded 3D screening buckets. Designed for use with excavators and loaders, these lightweight attachments enable the in-situ separation and reuse of different materials that might otherwise be wasted.
With applications that range from trench filling and padding to biomaterial screening and aerating, the bucket attachments give a single operator the ability to do several jobs.
All Viper screening buckets are anti-clogging, to make the screening more effective, and manufactured using only Hardox wear steel to eliminate dead weight, improving capacity and fuel efficiency.