Auction platform with a difference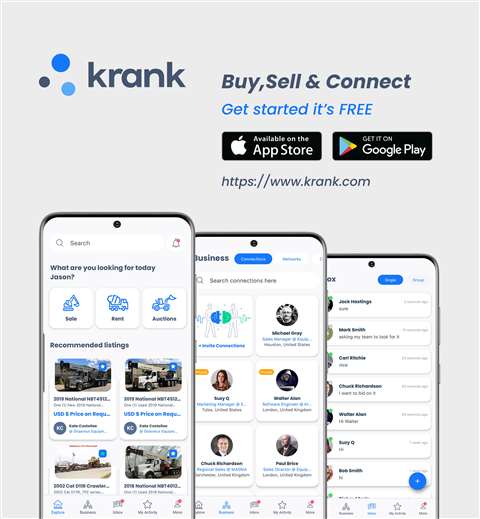 Industrial networking technology company Krank has launched an online auction feature where companies can host commission-free machinery sales and build their contact lists.
It is tagged as a machinery auction without an auctioneer. Krank allows companies to host their own auctions and sell equipment online. Users create their own secure private marketplaces. They choose who can participate in the auction and agree terms. No commission or fees are paid by buyer or seller.
According to Krank the system covers everything from inspection to compliance, documentation and payment and delivery terms. "It puts the seller in control of the sale and provides transparency, security and unfettered access between buyer and seller, with no intermediary, such as an auction house, capturing the sale data."
Buyers and sellers are put directly together. Unlike, for example, Ebay, payments do not flow through the Krank platform. First, bidders request to connect with the seller's network in a similar way to a connection request in LinkedIn. Following acceptance they can take part in an auction. In this way sellers can pick who they want to sell to. Seller and bidder are known to each other so both parties can more confidently go ahead with the auction.
Sellers capture details of all the bidders and not just the winning bidder. These can be used as leads to potential future buyers of other equipment that may be put up for sale. "The new B2B auction feature puts the seller in complete control of the auction process," said Krank.
Sellers know their buyers and the process is transparent and secure, with no commission or fees, Krank said. The biggest benefit is the future lead generation aspect of knowing all the bidders, Krank said. Another advantage is that sale data is private. Unlike public auctions, no sale prices will be published.
To get started, users upgrade from the basic free account on the Krank networking platform and set up a 30-day sale or rent listing for the item/s to be sold. It is then converted to an auction listing where choices include settings for reserve or no reserve auction, opening bid price, start date, time and so on.
Without involvement of a third-party auctioneer, Krank provides templates for seller declaration and purchase contract. These can be edited for individual requirements and they clearly establish the sellers' authority to sell, and the terms on which the sale is being made. The documents are signed electronically by the seller and each bidder before bids can be placed.
UK-based Krank is initially targeting the crane market, earthmoving and aerial work platform sectors, in North America and the UK under beta trials. A global roll out is planned for later on in 2020.