Australia's first SX-180 goes to Top End Access
By Euan Youdale08 December 2014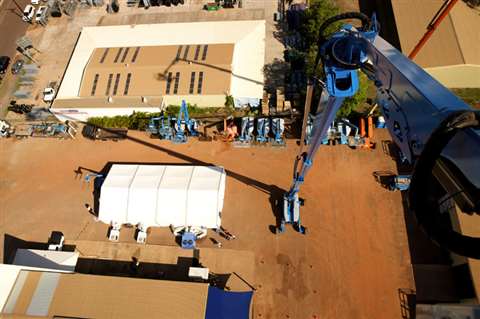 Top End Access, based in Darwin, Australia, has taken delivery of a 180 ft Genie SX-180.
The rental company said it was the first SX-180 to be delivered to an Australian company. The arrival was marked by government minister John Elferink MLA, Northern Territory Attorney-General, who unveiled a plaque.
Terex AWP sales manager Michael Scott said, "This is a landmark moment for Genie in Australia, for Top End Access and for the Australian equipment hire industry in general. Now, users will be able to go higher than ever before using a self-propelled boom lift."
Top End Access's general manager, Geoff Guy said, "Taking delivery of the SX-180 boom lift shows the faith the directors have in their company and in the Northern Territory in general. They believe the Northern Territory is continuing to grow and develop, and they want to make sure they're at the forefront of having the right access equipment available to meet the needs of the customer.
Mr Guy added, "We expect the SX-180 boom lift to be utilised quite vigorously by local mining and construction operations, but its use is not limited to just those two sectors."