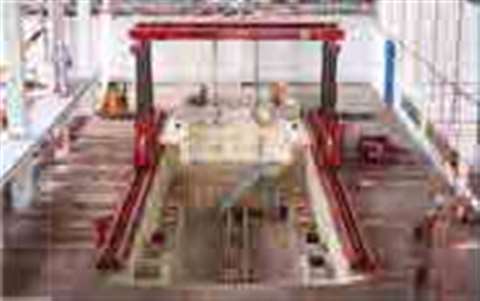 Also using telescopic hydraulic gantries, Freight Wings Pvt Ltd, a leading lifting contractor in India, has completed a notable turnkey contract. The job was installing and commissioning a press line at car manufacturer Hyundai India Ltd's plant expansion site in Sriperumbudur, Chennai, in the south of the country.
Freight Wings transported the heavy press parts from under the ship's hook at Chennai port to the plant using Goldhofer THP/SL trailers and MAN prime movers. The same equipment was then also used to shift the loads from the storage area on site to the press shop.
The scope of the work included installing all the press parts, which ranged in weight from 70 tonnes for the slide assembly to 130 tonnes for the bed assembly, to 245 tonnes for the crown assembly. There were nine heavy lifts in total, for which Freight Wings used its 500 tonne capacity 4 Point Lift Systems telescopic hydraulic gantry with small hydraulic telescopic cranes. It took 4,000 man-days to complete the job, working in two shifts.