Awards Shortlist – Explosive Demolition
Judges: Dan Costello, Costello Dismantling, USA; Clinton Dick, Liberty Industrial, Australia; John Woodward, C&D Consultancy, UK
Cardem (France)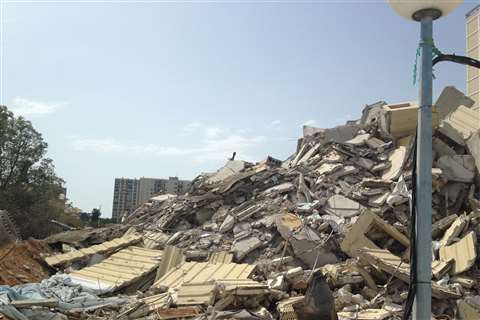 Cardem performed an explosive demolition of a 115-apartment building in a very dense urban environment with strong societal constraints. It had to adapt to these strong constraints in term of noise, dust and concrete projection reduction.
The proximity of a school and another apartment building led Cardem to realise an explosive demolition with directed fall. This demolition needed more than six months of preparation before the blasting day.
Jet Demolition (South Africa)
Situated on less than 0.2 hectares (0.5 acres) in a densely occupied urban environment, the 15-storey H G de Witt Building's exceedingly tight site made it necessary to produce a centre-drop implosion action that would emphatically pull the east end of the building and thereby "ride" it to the west, while simultaneously pulling in the west end of the building.
Safedem (United Kingdom)
The Belville Street tower block had previously been labelled a structure "too difficult to demolish". Not because of the structure itself, but more due to what was surrounding it …the risks had been deemed too great.
The 19-storey tower block sat perched upon a cliff top, with the electrified west coast main line located at the bottom of the cliff. The risk of debris falling down nearly 40 m (130 ft) and causing mass destruction of Network Rail's assets was an issue that had the client, River Clyde Homes, scratching its head.
The World Demolition Awards are part of the World Demolition Summit, which takes place in London, UK on Thursday November 2. The event is organised by Demolition & Recycling International in co-operation with the European Demolition Association and with the support of the National Demolition Association of the USA. The headline sponsor is Volvo Construction Equipment.
For more details please visit www.demolitionsummit.com