Awards shortlists – Urban Demolition under US$10m
Today we are announcing the shortlists for the World Demolition Awards.
In the Urban Demolition under US$10 million category, the shortlist is as follows.
Congratulations to: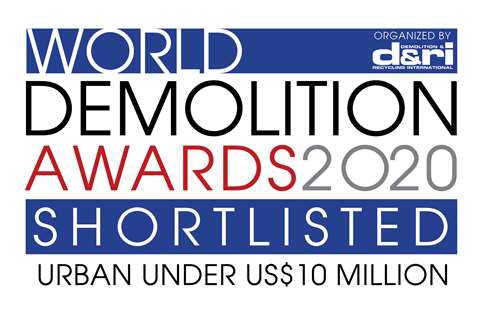 Budget Demolition (Canada) – for the Old Windsor City Hall project which imposed challenges including limited site access, limited workspace, dust migration and nearby historic monuments.
Despe (Italy) – for the demolition of a site formerly owned by the Fiat motor company in the centre of the coastal city of Livorno
Flesan (Chile) – for its work on the former Copesa facilities in suburban Santiago, totalling 16,500 sq m (177,600 sq ft) in an eight-month period
Veit & Company (USA) – the company was subcontractor for demolition and abatement of a 13-storey dormitory building at Marquette University, Wisconsin.
The World Demolition Awards take place on Thursday 12 November and are organised by Demolition & Recycling International in co-operation with the European Demolition Association and the National Demolition Association of the USA.
The headline sponsor is Volvo Construction Equipment
To register for the World Demolition Summit please visit https://www.demolitionsummit.com