Ayhanlar Platform purchases 50 Snorkel units
By Lindsey Anderson30 October 2017
Turkish rental company, Ayhanlar Platform, has invested in 50 Snorkel lifts from official Snorkel distributor, Uzman Lift.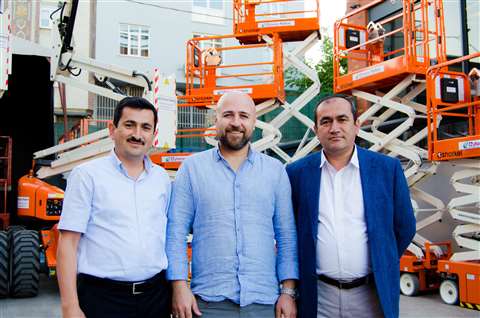 The order, which was placed in September, consisted of 40 Snorkel S3219Es and six S3226E electric slab scissor lifts, along with two A46JEs and two A46JRT articulated boom lifts. All of the lifts were delivered to Ayhanlar Platform immediately from Uzman Lift stock, held near Istanbul, and were handed over by Mehmet Karakaya, general manager at Uzman Lift, and Matthew Elvin, CEO and Michael Wright, regional sales director – MEA, for Snorkel.
Ayhanlar Platform was founded in 1997 to support the Turkish market with the supply of high reach platforms. They operate from four branches, based in Istanbul, Gebze and Kayseri, and run a rental fleet of 650 platforms, ranging from platform heights of 5m to 70m. They also offer a specialist fleet of ultra-high platforms, under the BigLift division, which are commonly supplied to the wind power industry for turbine installation and maintenance.
Necip Ayhan, general manager at Ayhanlar Platforms said, "We were introduced to the new Snorkel electric scissor lifts by Uzman Lift, and we were very impressed with the features that have been designed into the lift to lower the total cost of ownership. Uzman Lift were able to provide immediate delivery, and this has been followed up by a visit from a Snorkel product support engineer who came to train our technicians quickly after we received the lifts. We are very happy so far with the products and the service, and look forward to building this relationship."
Mehmet Karakaya, general manager at Uzman Lift, added, "We are very grateful to Mr. Ayhan and Ayhanlar Platform for this opportunity. We are committed to delivering the highest levels of customer service and I am pleased that we were able to support this request from stock. We are also grateful for the support of our partner, Snorkel."
Matthew Elvin, CEO at Snorkel, said, "I was honored to be welcomed to Ayhanlar Platform, and to be part of the handover of one of our largest deliveries into Turkey to date. On behalf of Snorkel, I would like to express my sincere thanks to Ayhanlar Platform for their investment, and to Uzman Lift for their continued hard work and dedication to the promotion of Snorkel in the Turkish market."
Following delivery, Snorkel provided technical training for the Ayhanlar Platform service engineers, equipping them with the skills to service, maintain and repair lifts for optimum performance within the rental fleet.