Barin bridges the Danube
By Euan Youdale28 May 2013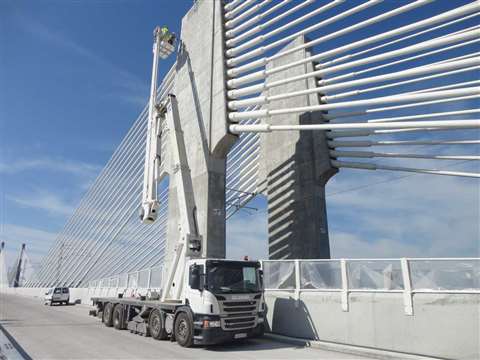 Italy-based Barin has supplied an underbridge inspection unit to European construction giant FCC Construcción.
The AB 19/SL is being used by FCC Construcción's Bulgarian branch for the inspection and maintenance of a bride crossing the Danube river in Vidim. It has been mounted on a Scania P380 LB 8x2 truck chassis, manufactured in Sweden.
As with all Barin's underbridge inpection units, a main feature is its ability to operate using one lane of the highway. The AB 19/SL also includes a bridge clearance of 4.8 m, a sidewalk clearance of 4.5 m and a horizontal underbridge outreach of 19.2 m.
Other specifications include an underbridge vertical depth of 24.5 m, overhead outreach of 22 m and a 300 kg maximum platform capacity. Gross vehicle weight is 32 tonnes.