Bauer's foundation tech on show
By Mike Hayes11 March 2019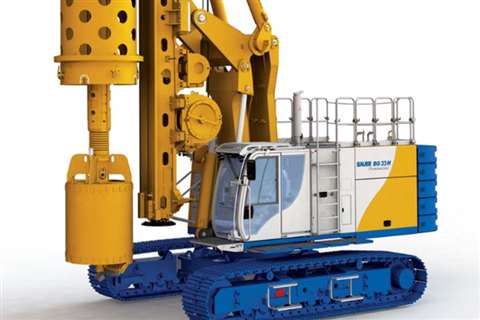 Bauer's BG 33 heavy-duty rotary drilling rig
Bauer Maschinen Group will be showcasing their entire range of specialist foundation technology at Bauma this year, at booth FN 520.
The company will present three PremiumLine heavy-duty rotary drilling rigs – BG 23 H, BG 33 and BG 45 – which will demonstrate the multifunctional character of this rig series.
The BG 23 H and BG 33 will be shown on the new base carriers BT 65 and BT 85. These base carriers now have an integrated service platform for easy and secure access for maintenance work.
The PremiumLine portfolio will be completed by the BG 23 H, equipped with H-kinematics, which will be shown with an advanced continuous flight auger (CFA) system.
The BG 33 rotary drilling rig is the successor to the BG 28 and BG 30 and is available for worldwide markets through the use of CAT engines.
With the BG 45 Bauer is presenting a proven PremiumLine machine from the upper-level V-series. The machine is equipped with an advanced drilling system for creating deep, full displacement piles with the LostBit method.
One of the highlights will be the redesigned BT 50 base carrier, which offers a whole range of benefits. The integrated service platform allows easy access to all maintenance and service points in the upper carriage and is said to meet the highest safety standards.
The company is also presenting a completely new ValueLine rig, which will be a world premiere.