Bauer starts on French wind farm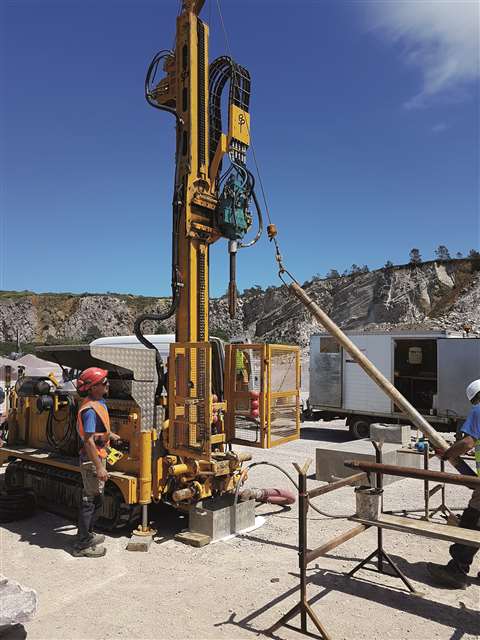 Foundation engineering company Bauer has designed and installed 14 onshore test piles in France, ahead of the construction of an offshore wind farm in the northwest of the country.
The Saint-Brieuc wind farm, which will comprise 64 turbines over a 75m2 area, will have a total installed capacity of 496MW.
Paul Scheller, head of underwater foundations at Bauer, said, "The aim of the onshore tests was to obtain important friction values for the foundation of the planned offshore wind farm.
"This will be the first commercial application for this type of piles worldwide. Bauer has developed a special drilling system for such projects in order to install temporary cased drilled and grouted piles offshore in a variety of different types of subsoil."
The project, which required the use of both a Bauer BG 30 drilling rig and a Klemm KR 806 2D rig, saw Bauer's Technical Services Department apply a test load of 10MN to the micropiles using a load distribution system. Loads of up to 40 MN were used via internal pile test jacks to stress the larger piles.
Bauer also undertook three exploratory drilling operations, which saw the company encounter rock with strengths exceeding 180MPa – 60MPa more than it had originally expected. The company said that as a result drilling the 1,350mm diameter piles took much longer and that excessive wear was caused to the roller bit core barrels that were used.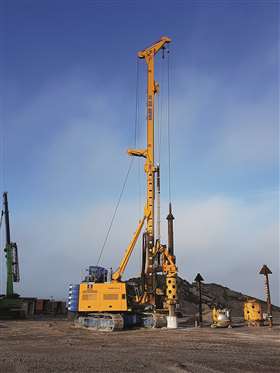 Due to be operational in 2022, the construction, installation and operation of Saint-Brieuc will be carried out by Ailes Marines, a joint venture company owned by energy company Iberdrola and Avel Vor. Iberdrola said the project, one of several wind farms currently planned in France, would meet the energy needs of around 835,000 people.
Earlier this year the EU Commission approved the construction of six renewable energy projects submitted by the French government. The Courselles-sur-Mer, Fécamp, Saint-Nazaire, Iles d'Yeu / Noirmoutier, Dieppe / Le Tréport and Saint-Brieuc wind farm projects, which fall in line with the European Union's energy and climate goals, will increase France's renewable energy generation capacity by around three gigawatts.