Bauma bonanza from Caterpillar Work Tools
By Lindsay Gale13 April 2010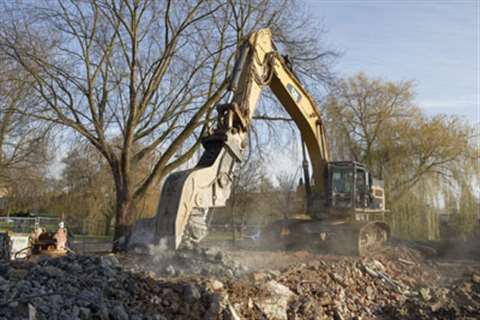 Caterpillar Work Tools B.V. will use the bauma show to unveil a number of new demolition attachments, in conjunction with German Cat dealer Zeppelin.
Three models make up the new P200 series of pulverisers, the 1,683 kg (7703 lb) P215 for 15 to 25 tonne carriers, the 2,480 kg (5,456 lb P225 for carriers weighing from 25 to 35 tonnes and the 3,421 kg (7,526 lb) P235 for 35 to 60 tonne carriers. According to the company, they have been tailored for secondary demolition use, as well as the preparation of concrete for crushing. They offer wide jaws with pick-up tips, large openings, reversible cutting edges and fast cycle times of optimised performance.
The company will also be showing off its new improved MP series multi-processors, which now offer up to six different jaw sets for each of the four models that make up the range. Improvements include 20 different modifications to the housing, such as a new cover design that provides easier access, a new protection cover for the cylinder rod and an improved lock nut design. Cat Work Tools has also added a new S jaw that is designed to provide better cutting and size reduction of metal. It features a piercing tip and wear blade in the upper jaw and the lower jaw features a cross blade with additional guiding blades.
Also on show will be the new D series bucket line for the 374D excavator model and the new Center-Lock Pin Grabber coupler. The latter has been designed for use on the Cat's hydraulic excavators from the 311 through 345 models. It uses a patented over-centre locking mechanism and two hydraulic locking elements to ensure positive work tool attachment.
In addition to the new products on show, the company will also use bauma to display a wide range of its products, including hammers, demolition and sorting grapples, pulverisers and hydraulic crushers.