Bauma Show Guide - Cranes
By KHL Group18 March 2016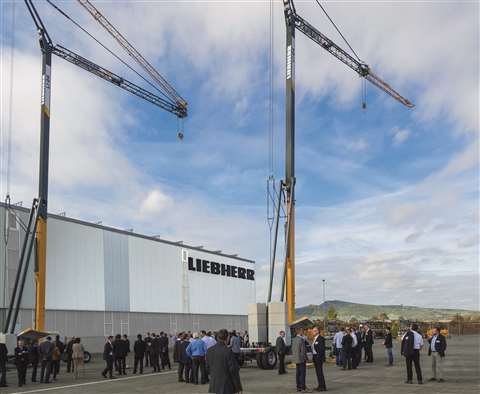 Two new wheeled mobile telescopic hydraulic cranes will be shown by Liebherr. Brand new will be a model on an eight axle carrier with a very long telescopic boom. Its design focus was on high economy and easy set-up, the manufacturer said. Further details were unavailable at the time of writing in late February.
Also new is the 5-axle, 250 tonne capacity LTM 1250-5.1 wheeled mobile telescopic crane first shown in 2015 at the company's Customer Days event in Germany. It is claimed to be the most powerful five axle crane on the market and is the third model with one engine instead of two. It has a 60 m boom and, in addition to a multi-functional folding jib, a 50 m hydraulically adjustable fixed jib is also available.
A new series of hydraulic fast erecting tower cranes will be shown by Liebherr. The L1 series will be the company's smallest bottom-slewing tower cranes. In some ways, including the name, the new L1 recalls the first crane made by company founder Hans Liebherr in 1949. Features include improved ergonomics, good access for erection and maintenance work and a modern, attractive design, the company said. L1 will replace the existing H series of cranes.
First in the series is the 2.5 tonne capacity L1-24, available with a maximum radius of either 25 or 27 metres. Capacity at the end of the jib will be 950 or 800 kg. Hook height is 19 or 19.2 m with the jib horizontal. A 20 degree inclination will increase this height to 25.7 and 26.5 m where capacity is given as 900 and 750 kg.
The new 500 tonne capacity Liebherr LR 1500 lattice boom crawler crane was first shown in 2015 at the company's Customer Days event in Germany. Maximum boom and luffing jib combination length is 84 + 84 metres. The 250 tonne jib head on the luffing jib is also used for SL main boom operation. For heavy lifts a 400 tonne head is available for the S main boom. It is lighter than the optional 500 tonne head. The derrick boom is 30 m long and maximum derrick ballast is 260 tonnes. Its radius can be adjusted from 9 to 16 m.
For transport the heaviest component is given as 45 tonnes to allow unrestricted movement worldwide. While the central crawler section with slew ring weighs 55 tonnes, a removable A-frame allows the weight to be reduced to 45 tonnes. A quick connection is not required and the transport dimensions of 3 m width correspond to the global transport standard, Liebherr said.
Liebherr-Werk Nenzing in Austria has developed a new 100 tonne capacity class lattice boom crawler crane. The LR 1100 will make its debut at Bauma and deliveries will start in the middle of the year.
In a departure from conventional design where steel plate is used the new crane has a tubular structure. It improves performance and gives the crane a different appearance, the manufacturer said. Easy transport and quick set up are features of the new LR 1100. The boom foot and crawler track frames stay on during transport. Instead of having to be dismantled and removed, the catwalks fold down.
Three of the four all terrain cranes shown by Grove will be new models, manufacturer Manitowoc said. Details of one will remain undisclosed until the show. New is the 100 tonne capacity GMK4100L-1. The 250 tonne capacity GMK5250L was first seen in 2015 and now the first units are being delivered. Also on show will be the 400 tonne capacity GMK6400. Features include a one engine design, Megadrive hydrostatic drive system and a self-rigging, capacity-enhancing MegaWingLift.
Grove has had a four axle 100 tonne capacity all terrain for years but the GMK4100L-1 is a new design that promises notable improvements. It has a 60 metre boom. The old model had two engines but the new one has one which means more counterweight can be carried on board, allowing it to lift more. Grove claims it has the best load charts in its class when configured with full counterweight, or when set up to run within the 12 tonnes per axle load limit.
The 90 tonne capacity Grove GRT8100 is Manitowoc's new rough terrain crane. It is an update of the RT890E and is the first with the new GRT (Grove rough terrain) nomenclature. Maximum height, to the tip of the boom, is 49 m and with full boom extension and insert options, maximum reach is 77 m. The new lighter and stronger boom gives more capacity, Grove said, by 27 % at close radii, 13 % in the mid-range and 16 % at full radius.
Its hydraulic luffing boom extension, claimed as a first in its class, is a bi-fold type configurable in length between 10 and 17 m. Other options include a 10 to 17 m manual bi-fold extension with fixed offsets at 0, 20 and 40 degrees, and a heavy duty 3 m jib offsettable to 40 degrees. Set up and dismantling is claimed to be 60 % quicker than on previous models. Line pull on each winch is 7,883 kg so fewer parts of line are needed.
New and on show in Manitowoc's Potain range of tower cranes will be the MDT 389, first from a new line suitable for cramped multi-crane job sites. It is one of three towers on show at Bauma, alongside the MDT 219 and the MR 418 luffer.
The MDT 389 is the largest in a new range of flat tops which also includes the MDT 249, MDT 259, MDT 269 and MDT 319. All have the new Crane Control System (CCS) and are designed for fast erection and dismantling and to be easy to transport. The MDT 389 is available in a 12 or 16 tonne version, both with a jib up to 75 m. Capacity at the end of that maximum jib is 3.4 tonnes on the 12 tonne version and 3.3 tonnes on the 16 tonner.
On the MDT 389 the slewing section, cabin mast section and the cab can be moved together as one load. The counter jib can be folded and the winch platform can be sized to occupy less space, Manitowoc said.
Tadano will show its flagship ATF 600G-8 all-terrain crane. It has the largest maximum lifting capacity (600 tonnes) in the Tadano product line and features the Tadano triple-boom system, which does not require the transportation or handling of a separate boom suspension system.
At the smaller end of the Tadano product line, the company will present the successor to its ATF 50G-3, a three-axle all-terrain crane with a maximum capacity of 50 tonnes at 2.5 metres and a five-section telescopic boom from 10 to 40 m.
Besides this, as part of the Euromot 4/ Tier 4f engine changes, Tadano has taken the opportunity to add features and updates across its full ATF product line.
Two models in its rough-terrain and telescopic crawler crane ranges – the GR-1450EX and GTC-800 – will also be exhibited. They will be available for the European market in 2017.
News from Terex Cranes will include the launch of a new all-terrain crane on five axles, probably somewhere over 200 tonnes in capacity. The Explorer range of all terrains will also receive attention with updates of the 5500 to give more capacity and the 5800, on the boom. Other ATs on show will be the 40 tonne capacity AC 40-2 and a Challenger series model.
A new 80 tonne capacity rough terrain crane for the market worldwide will make its debut. On show from the tower crane range will be a 16 tonne capacity CTT 332-16 flat top. A prototype of the 332 tonne-metre crane was first shown a couple of years ago.
Sennebogen's latest model, the 6300, is a 300 tonne capacity duty cycle crawler crane. The Bavarian manufacturer's largest model to date is now ready for production and will be seen publicly for the first time at Bauma with the display of the first unit manufactured.
Applications include dredging, mining and special underground engineering operations. For lifting work an 80 m main boom is available. To drive attachments the hydraulic pressure is up to 350 bar and there is a 2,000 litre tank plus oversize lines and valves, the manufacturer said.
The crane is 12 m long, the crawlers are 9.5 m long and the machine's track width is 6.8 m. All-up weight is 310 tonnes and the upper works accounts for 100 tonnes of that.
The Link-Belt HTT-86110 telescopic truck crane will debut at Bauma. Base rated at 100 tonnes (110 US tons), it has steerable rear axles with super single tyres and with four steering modes—independent front, independent rear, combination, and diagonal.
The HTT-86110's turning radius is less than 8.3 metres (27.25 feet) from the centreline of the tyre, comparable or better than similar four-axle all-terrain cranes.
A Tier 3/Euro Stage IIIA Cummins 359 kilowatt (480 horsepower) engine is available on the HTT-86110. For the North American market, a clean idle certified Cummins 336 kW (450 hp) engine is also available; both the international and North American market versions of the HTT-86110 come with 1,550 ft.-pounds of torque.
For both market specific models, both the carrier and upper engines couple to a ZF AS-tronic automated transmission with 12 speeds forward and two reverse. The controls for this transmission are similar to an automatic (no clutch pedal) and yet have the performance of a manual with automated pump disengagement for on-highway travel and jobsite manoeuvre modes.
Wolffkran will show its biggest flat-top crane ever and the best of 30 years of innovation in luffing technology with a new luffing crane model. It will also showcase the US version of its bestseller luffing cranes.
The Wolff 7534 is the biggest and most powerful flat-top crane of the pack to-date and thus rounding off its product line the 315 tonne range.
Wolffkran's second newcomer is the Wolff 275 B which boasts a maximum load capacity of 24 tonnes, a hook path of 700 metres and a hoisting speed of up to 222 m/min. The 275 B lifts prefab parts, steel and concrete and lets skyscrapers rise skyward in no time.
With two stands and 20 machines on display, Palfinger said it will present itself at Bauma as a market leader for mobile loader cranes and as a technological pacesetter for hydraulic lifting and work systems.
A wide range of products from the heavy-duty PK 165.002 TEC 7 crane up to container handling systems will be shown.
The PK 165.002 TEC 7 is designed for carrier vehicles with a maximum permissible gross vehicle weight of 32 tonnes. It is 800 kg lighter than its predecessor – the PK 150.002 – and, unusually, the crane features a personal fall protection mode.
Palfinger's L-crane model series offers familiar features such as a 440 degree slewing angle as well as slewing gear mounted in an oil bath, internally routed hoses and an ergonomically optimised top seat with new joystick control.
FM Gru will show three new tower crane products. First is the 1140 RBI self erecting crane with a 40 metre hydraulic boom, a capacity at jib end of 1,100 kg and a maximum capacity of 3,000 kg (two falls of rope) and of 5,000 kg (four ropes). This crane can also work with a folded jib with the following characteristics – 29.6 m jib with a capacity of 1,700 kg and 14 m jib with a capacity of 3,000 kg. Power consumption is minimised thanks to 8.8 and 11 kW winches controlled by inverter and PLCs.
The second FM Gru crane on display will be the 930 RBI-FA, a self erecting crane approved for road towing, that has a 30 m hydraulic boom, a capacity at jib end of 900 kg and a maximum capacity of 2,400 kg (on two falls of rope).
This crane can also work with a folded jib with the following different characteristics – 26 m jib with a capacity of 1,100 kg, 13.3 m jib with a capacity of 2,400 kg. The crane can work with the jib luffed from 0 to 25 degrees.
It also has PLC controlled inverter drives for the winches to give low energy consumption and easy to manage operation in all work situations, the company said.
The third FM Gru machine on show is the 1260 FTC, a top slewing flat top tower crane with a 60 m boom. Capacity at jib end is 1,350 kg and the maximum is 8,000 kg, on four falls of rope. This type of crane is designed with a jib composed of modules of 11.40 m, which reduce the mounting time. Maximum tower height with the 4.5 x 4.5 m base, as shown at Bauma, is 55.9 m.
Fassi plans to introduce several cranes and a new radio control unit.
The F2150RA/RAL has a load moment capacity of up to 136.4 tm, a hydraulic reach up to 41 metres with a jib and dimensions of w – 2.54 m, l – 4.18 m, h – 2.73 m. Its electronic/hydraulic equipment includes the FX800 control unit, D900 digital hydraulic distributor, RCH/RCS radio control, ADC automatic dynamic control, Flow sharing and the XP system.
The Fassi Gru F545RA xe-dynamic, meanwhile is a completely new machine added to the XE series between the larger F560RA he-dynamic and the smaller F485RA xe-dynamic, but with a significantly increased performance and power-to-weight ratio. The footprint has been increased by just 85 mm over the F485RA model. It weighs just 3% more, but is 10% stronger thanks to stabilisers that extend to 7.8 m. It has a maximum load moment of 53 tm (518 kNm), and a maximum hydraulic reach of 20.8 m. This becomes 24.9 m in the version with eight booms plus manual extensions.
The new F545RA is a continuous rotation crane with the option of a double gear motor. It is supplied as standard with the proven FX500 control system, the D850 hydraulic distributor, the Fassi RCH/RCS radio remote control and the FSC-S or H stability control. Several versions are available with up to eight hydraulic extensions. To further increase the working area, there are also various job combinations to meet every need.
The new Fassi Gru F305A and F255A, meanwhile, are middle range cranes designed to enrich the XE series.
The small crane market is catered for by the F65B and F70B, with the connecting rod and fork on the secondary arm. The use of ultra-high strength steels has reduced the weight of the cranes by 9% compared to the previous F65A.0 model. This means more residual load capacity for the vehicles on which they will be installed.
The F65B comes with the FX500 control system and in the e-dynamic version with the Fassi RCH/RCS radio remote control. For all the models, there are four base versions that can be fitted with a maximum of four hydraulic extensions. The addition of the XP 'extra power' system turns the F65B into the superior lifting F70B.
Hyva will reveal two new lines of cranes – telescopic boom and articulated in 12 models:
The HT130 and HT162 are 13 tm and 16 tm class telescopic boom cranes are designed to be used in car recovery and in other applications where a compact, light and easy to operate crane is needed.
The HB130 and HB160 13 tm and 16 tm class articulated boom cranes are said to offer a perfect solution for cost and performance in loading and unloading operations.
The HC131, HC143, HC153, HC161, HC171 and HC183 are 13 to 18 tm articulated cranes equipped with double linkage boom system for complex lifting applications.
The HC131K and HC161K are13 tm and 16 tm class short boom articulated cranes with double linkages are designed for high loads delivery. They can be installed on compact wheelbase trucks and used in construction applications.