Bauma Show Guide - Other lifting equipment and components
By Alex Dahm21 March 2016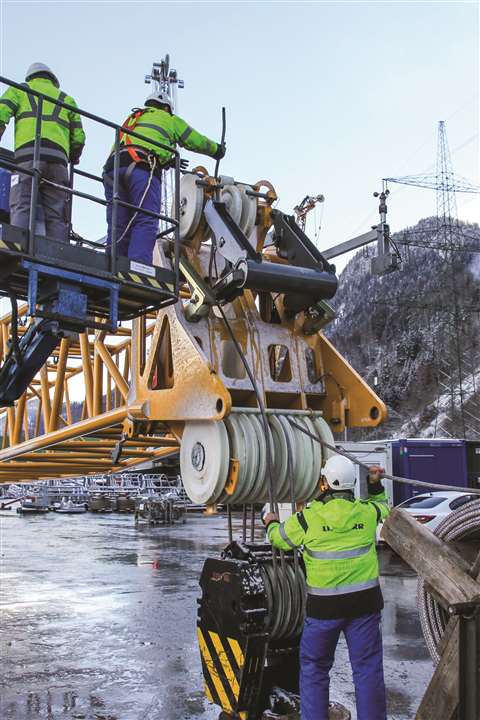 A series of updates and enhancements characterise manufacturer of remote controls Autec's offering at this year's Bauma. A new 4.3 inch, sun-readable colour display enhances the Italian manufacturer's FJR and FJM models. Features include 256 colours, 480 x 272-pixel resolution, six programmable soft-keys and wide viewing angle up to 130 degrees. The transmitter's case accommodates a 2,800 mAh LPM04 lithium battery.
LK Neo is the latest model in Autec's AIR Series and it is aimed at a wide range of industrial applications. Among its main features are: a Stop function built to comply with the EN ISO 13849-1 standard, dual-band technology (434 and 915 MHz), removable battery, and external or internal removable memory ID. Transmitters in the series are available with 6, 8, 10 or 12 buttons and there are two other versions with a 1.8 inch colour display. Other options include, a two- or three-position switch, potentiometer, infra red sensor, zero-gravity sensor and vibrational feedback.
Crosby is showing a range of lifting points called Crosby Slide‐Loc, an alternative to standard eye bolts. Central to the new design is its locking mechanism that slides to lock the bolt for faster installation, then slides back to make ready for lifting without the need for tools.
Also new is the Crosby Easy‐Loc V2 shackle bolt securement system, said to be an industry first that eliminates the need for a nut and cotter pin in critical lift applications. It is claimed to be up to 90 % faster than the conventional nut and cotter pin design.
Crosby's new wide grip shackle bolt handle designed to make the installation and removal of pins more efficient will also be shown.
The S423T Super Terminator is said to significantly increase the termination efficiency over existing wedge sockets for high performance, high strength, compacted strand, rotation resistant wire rope. The design is claimed to guarantee a minimum efficiency rating of 80 % of the rope's catalogue breaking strength.
Crosby will also show its Platinum Line of chains and fittings and the Metric range of blocks and sheaves for wheeled mobile and crawler cranes.
Cummins will present its next generation of ultra-clean engines designed to meet European Union Stage V emissions regulations starting in 2019 for materials handling, construction and mining equipment.
Across an output range of 55 to 300 kilowatts (74 to 400 horsepower), these engines will, said Cummins, go beyond meeting Stage V near-zero emissions regulations to bring an increase in power and torque of up to 10 %.
The Stage V engines will be supplied as an integrated system with the Single Module exhaust after-treatment. It is designed to be up to 50 % smaller and 30 % lighter than the existing Stage IV and Tier 4 Final after-treatment systems.
Cummins heavy-duty engine duo, the QSG12 powering equipment up to 382 kW (512 hp) and the QSX15 with a 503 kW (675 hp) top rating, are ready to meet Stage V regulations by retaining the diesel particulate filter and selective catalytic reduction (DPF-SCR) after-treatment system used for Stage IV and Tier 4 Final applications.
Hydraulic lifting and jacking equipment manufacturer Enerpac will have live demonstrations of the SL400 hydraulic gantry. With its three-stage lifting cylinders, the SL 400 lifts up to 408 tonnes (4,000 kN) and has many new features, including a wireless control system and integrated self-propelled drive system.
Also on show will be Enerpac's entry for a Bauma Innovation Award, the autonomous SyncHoist System. It comprises four independent, self-contained PLC-controlled hydraulic lifting cylinders, and it allows one crane to do the work of two cranes. Visitors will also be able to see an Enerpac jack-up system that typically includes four jack up units positioned under each corner of a load. A four-unit setup has a lifting capacity of 2,000 tonnes (500 tonnes per unit).
Bauma visitors will be treated to the world premiere of water-cooled, three-cylinder versions of H engines from Hatz, introduced in January 2014. The German engine manufacturer will also present solutions for the proposed European exhaust emission standard Stage V to be introduced in 2019.
The turbo charger and intercooler in the H family of engines help give a maximum torque of 185 Nm (at 1,600 to 2,000 min-1) and a maximum power of 42 kilowatts.
The Hatz 3H50TI does not need any exhaust after treatment and reaches the standards EU Stage IIIA and EPA Tier 4 interim in the power range 19 to 37 kW. The 3H50TIC, meanwhile, is designed for the US market, Canada and some Asian countries, in particular. To comply with the exhaust emission standards EPA Tier 4 final (19 to 56 kW) and EU stage IIIB (37 to 56 kW), a combination of external exhaust gas recirculation (EGR) and diesel oxidation catalyst (DOC) is said to guarantee the necessary reduction of exhaust emissions.
A high-strength synthetic fibre rope for crane operation will be shown jointly by Liebherr and Austrian rope manufacturer Teufelberger. In comparison to steel ropes, the newly developed rope is lighter and more durable, Liebherr said. Its lighter weight (as much as 80 % less than steel) allows the crane to lift more load. A lighter hook block can also be used and the ropes don't need lubrication.
Another advantage is easier reeving that can be done by hand instead of needing winches so set up and dismantling is easier and quicker. Service life should be much longer than steel rope because of greater wear resistance and it allows more bending cycles, meaning fewer rope changes.
New from Manitowoc is its standardised Crane Control System (CCS). It is a common operating interface being introduced on all new rough terrains, plus crawlers, all terrains, boom trucks and tower cranes. CCS is designed for operators to more quickly set up their cranes and get to work. Its Eco mode feature helps improve fuel efficiency and decrease wear and tear on the powertrain and hydraulic systems.
EMOS is a new compact camera from Orlaco designed for use with all types of monitors and it can be connected to an existing network. It is designed for harsh environments and is shock and vibration-resistant. The system is fully waterproof to IP68 and IP69K.
Also new from Orlaco is the FAMOS vehicle vision camera. It replaces the AMOS camera and has fewer components, new mouldings, coated lens and a polymer body.
Orlaco's CornerEye digital camera monitor system is designed to offer a view of blind spots around trucks. With an HD monitor and a robust camera, CornerEye is designed to satisfy the criteria of vision classes V and VI. It has a wide angle lens that delivers a field of vision of 270 degrees.

Scania will show Stage V-ready engines in the 202 to 566 kW output range. The 9, 13 and 16 litre diesels use selective catalytic reduction (SCR) and diesel particulate filter (DPF) exhaust after treatment.
Although Stage V emission standards will not be in force until 2019, having engines ready now will helps manufacturers of cranes and other equipment who need time to design new or redesign existing machines to meet new standards. In addition, the new range of engines is based on the same platform as earlier ones, minimising the investment required in re-engineering.
In addition to its industrial engines Scania will show five of its trucks, including this R 730 LA10x4*6, a five axle heavy haulage tractor that can handle a gross train weight of 150 tonnes. It has a 730 hp Euro 6 engine with 12+2-speed range-splitter gearbox with overdrive
A special highlight on rope manufacturer Teufelberger's stand will be soLITE, the new high-strength fibre rope for cranes (see under Liebherr above).
Also making their debut are the Evolution TK27 and Evolution P9 steel wire ropes. Evolution TK27 is a new rotation-resistant long lay rope for mobile, crawler and tower cranes. Evolution P9 is a steel wire boom hoist rope for crawler cranes.