Bauma showguide: engines and power generation
Atlas Copco will be showcasing its latest innovations in clean drive technology and unveiling new portable air, power and flow equipment.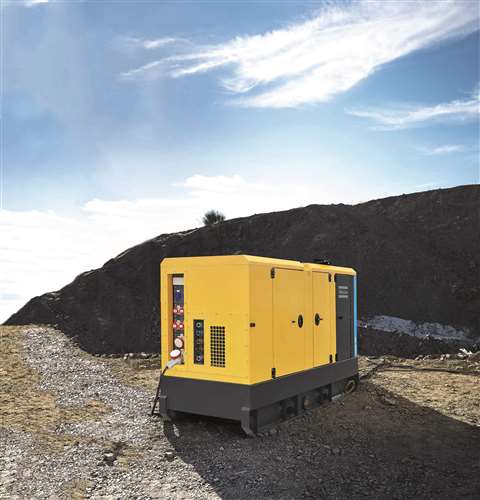 The new range of clean drive technology equipment on display will include the company's E-air electric-powered compressors and its battery-powered HiLight Z3+ lighting tower.
Since they do not have a diesel engine, they do not require refuelling, meaning noise levels are reduced and maintenance is simplified. As they don't produce emissions, owners need not worry about emissions regulations.
With the EU Stage V regulations introduced Atlas Copco will also use the exhibition as a forum to provide companies with guidance about the new regulations and how the company's equipment can help users make a smooth transition towards compliance.
New innovations to be exhibited include the latest models from Atlas Copco's QAS 5 generator range, as well as the new QAS VSG (variable speed generator). Both models were said to offer reduced consumption and emissions, as well as a smaller footprint.
The QAS 35 VSG has variable automatic speed control from 800 to 2550rpm and a built-in power management system that is said to enable fuel consumption to be reduced by up to 40% compared with similar models. Meanwhile, the QAS 5 offers quieter operation, a 20% smaller footprint than comparable models, reduced engine emissions and 24-hour autonomy.
Caterpillar's range of industrial engines meeting EU Stage V emission standards will be on display, including the C2.2, C3.6 and C4.4, as well as the new C13B industrial power unit and the C27. The C7.1 and C9.3B engines will be featured in hall B6.
The XQP100 generator set can either meet EU Stage IIIA emission standards or provide low fuel consumption performance for customers in non-regulated territories. With a robust, rental- or mobile-ready construction, the product line is designed to be easily transported around project sites safely and efficiently.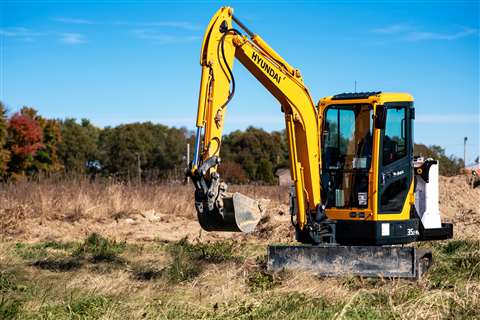 Cummins will display an electric prototype mini excavator at its stand
Stage V will be a key focus for Cummins at their stand, A4-325. Alexei Ustinov, vice president, Off-Highway Engine Business, said, "Since unveiling our Stage V construction engines at Bauma 2016, we have made great progress and are in production with all engine models from F3.8 to X15. We have over 200 machine installations completed or in progress, which is more than at Stage IV. We are developing alternate power capability such as hybrid, electric and fuel cells, however Stage V remains a key part of our plan."
One of the engines on display, the B6.7, reflects 100 years of engine innovation and is said to offer 30% higher torque than Stage IV with 243 kW (326 hp) of power.
Also featured will be the Stage V F3.8 power unit. Delivered as a complete and ready-made power package, it comprises an engine, Single Module aftertreatment, radiator and cooling system. Stage V engines and power units are available from 75–503 kW (100–675 hp).
2019 Stage V is the first European emissions step which impacts engines above 560kW (750 hp). Cummins will debut the QSK60 Stage V engine, which is part of its 560-2611 kW (750-3500 hp) mining line up. The QSK60 is available from 1398-2125 kW (1875-2850 hp) for excavator and dump truck use.
The company will also display an electric prototype mini excavator. Powered by Cummins BM4.4E flexible battery modules (4.4 kWh each), the 3.5-ton (3.1 tonne) Hyundai excavator prototype is designed to support a full work shift and charge in under three hours.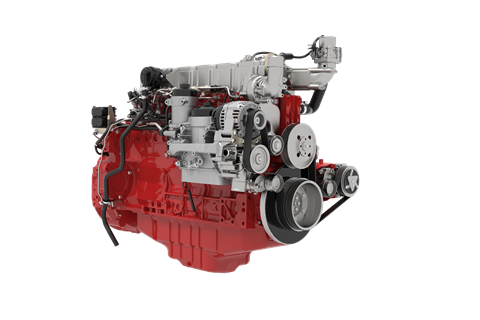 Deutz's TCD 7.8 engine
Deutz will be exhibiting a modular product kit for diesel, gas, hybrid and electric drives, on a stand measuring over 400m².
The company said it was diversifying its drive portfolio and would, in future, offer a modular range of different technologies to its customers in the construction equipment, fork-lift truck and lifting platform segments.
Based on its product modules, Deutz will design the optimum drive system individually for each customer. It said that, thanks to the company's expertise gained over many years, it would "exploit and intelligently combine" the benefits of various technologies.
This applies both to combustion engines and to the electromobility segment. It said that electrification was an integral element of the Deutz development expertise, and that it had already successfully developed the first prototype machines as part of its E-Deutz strategy.
At the end of 2018, the company presented two fully working prototype machines. Two telescopic handlers which are normally powered by a 74kW Deutz TCD 3.6 diesel engine were converted – one to a hybrid drive and the other to a full-electric drive. It said the E-Deutz hybrid achieved fuel savings of approximately 15%, recouping the investment costs after just one year of use.
In addition to its electric solutions, Deutz will also be demonstrating the TCD 5.2 for the first time at Bauma, adding a powerful four-cylinder engine to its diesel portfolio.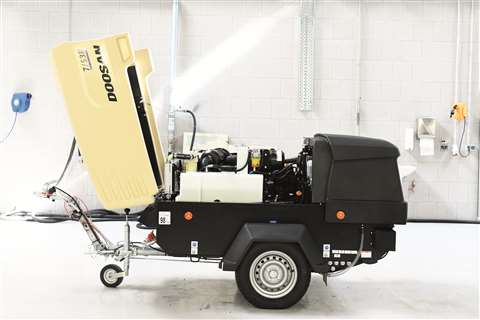 Doosan Portable Power will be showing several new portable compressor and generator products for the first time. They include the new Stage V-compliant 12/205 and 12/255 portable compressors, the new 7/53R portable compressor for the rental industry and the new G20 generator.
The 12/205 and 12/255 are part of a new generation platform of large Doosan Stage V portable compressors, with six models offering free air deliveries from 20.5 to 30.0m3/m at operating pressures from 8.6 to 21.0 bar.
These compressors are typically used to provide compressed air for drilling and boring machines in quarrying, mining, site investigation and water well construction work, as well as specialist applications such as abrasive blasting and temporary compressed air for industry.
The new rental-targeted 7/53R portable compressor, meanwhile, supplies 5.0m3/m of compressed air at a rated pressure of 7 bar. Designed to meet O1 trailer category requirements – the 750kg category – the new 7/53R is said to be suited for the rental market and also as a durable, cost-effective machine for the 5.0m3/m segment, covering the most common applications in construction, utilities and other markets.
In the generator sector, the G20 generator provides 19 kVA of power – driven by a Yanmar 4TNV88 18kW diesel engine – and meets EU Stage V engine emissions.
Hatz has the world launch of its new E1 single-cylinder, electronically-controlled engines up to 12kW. The German engine manufacturer said the E1 engines would be the world's first single-cylinder units with electronically-controlled fuel injection system and a digital control unit.
This will allow them to be connected via the Internet of
Things (IoT), giving equipment users and owners access to data on machine use for smaller products, such as mobile lighting towers and gensets.
Data from these small engines could be used by OEMs or fleet owners, such as rental companies, for fleet management purposes, in the same way that larger machines are already being equipped. The company will have 5kW, 8kW and 12kW engines using the E1 platform ready for the start of 2020.
The company is also continuing to develop hybrid diesel-electric powerpacks for lighting tower and gensets.
John Deere Power Systems (JDPS) will show a range of engines that have received Stage V certification, including its variable-speed engine families below 56kW, and above 130kW, as well as its constant speed engine families.
The industrial Stage V line up from John Deere offers ratings from 36kW to more than 500kW with displacements of 2.9 litres through the upcoming 13.6 litres.
The Stage V technologies used on these engines were said to be built on years of engine and application engineering expertise.
Stage V aftertreatment technologies from John Deere claim to be optimised for flexible integration, and several offer reduced packaging and weight from previous Stage IV solutions.
Because the technologies are built on the same engine platform as current Stage IV solutions, the need for OEMs to re-engineer as a result of hardware or mounting changes is reduced, said John Deere.
Kohler-SDMO said it was quick off the mark in meeting the new Stage V emission limits, with a 50kVA Stage V model, the R50C5, on show in Bauma. That will be the first of its Rental Compact range (from 22 to 550kVA) to be Stage V compliant, with 20kVA and 330kVA gensets to follow later in the year.
Several more Stage V-compliant models will be available in 2020 – for 165, 220 and 550kVA power nodes – while 2021 will see gensets in the 66 to 110kVA range added.
Kubota's BUEE (Business Unit Engine Europe) plans to showcase its most comprehensive range of power systems to
date at Bauma, saying that the line-up demonstrated the company's belief that there was no one single fuel type for the future of the off-highway equipment industry.
Kubota said its long-term global business strategy has been to provide the markets with an engine platform for every fuel type and application – diesel, gasoline, liquid gas and natural gas – with the further option of duel fuel.
The company will also use Bauma to present a new pillar within its long-term business strategy, which is a further-developed version of the micro-hybrid prototype engine that was first showcased at Intermat 2018, Paris.
Highlights from the range of products on display at the show include the recently launched V1505-CR-T and D902-T.
Kubota will also feature its new 09 Series – which will enter service in 2020 as a global engine platform – which has been developed for upcoming Chinese non-road emissions regulations in addition to the EPA Tier 4 and European Stage V regulations.
Man Engines wants to detach itself from the limiting label of truck engine manufacturer and further invest in its range of off-highway diesels. Its new D4276 six-cylinder inline engine is a special development for heavy-duty off-highway machines with an eye to construction vehicles.
The engine has been developed especially for applications that demand high power with full power operation at up to 70%. A maximum torque of 3280 Nm is delivered already at 1100 r/min speed and remains constant up to 1500 r/min. The output power is between 450 and 515 kW depending on the power stage and, with a dry weight of just 1280 kg, this engine has a high power-to-weight ratio.
Perkins will be showcasing its complete EU Stage V engine range, future technologies and aftermarket services and digital solutions.
Five engines meeting the latest Stage V emissions standards will highlight the Perkins 0.5 to 18 litre (4 -597 kW / 5-800 hp) engine range.
Perkins will complement its range of off-highway diesel engines by showcasing a further three engines highlighting future hybrid offerings. These new engines will be shown for the first time on the Perkins stand in Hall A4 Stand 336.
Perkins has invested in hybrid engine research and development. At Bauma the company is featuring a range of technologies that will add value to OEMs as they design the next generation of off-highway machines.
The hybrid-electric, hybrid-mechanical and hybrid-hydraulic power technologies being shown by Perkins complement the existing 0.5-18 litre range of diesel engines.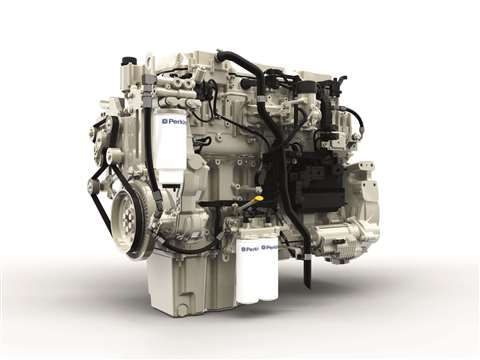 One of the engines Perkins will be displaying, the 2406J-E13TA
Perkins is displaying a range of engines that meet the new Stage V emission standards, such as the 1.7 litre mechanical 400 Series at 18.9 kW (25 hp), to the new Syncro 3.6 litre engine offering 100 kW (134 hp).
Highlighting the breadth of the range, the company is showcasing a four-cylinder 1200 Series, designed for the electric power market. The engine delivers 120 kVA and meets Stage V emission standards for mobile generators. At the larger end of the range, the 1700 Series is a six-cylinder, 9.3 litre engine offering 340 kW (456 hp), while the 2400 Series will be shown for the first time.
Perkins Stage V technologies include common rail fuel systems, selective catalytic reduction (SCR), diesel oxidation catalysts (DOC) and diesel particulate filters (DPF).
Volvo Penta will be showcasing its full range of engines, including the new Volvo Penta Stage V D5, D8, D11, D13 and D16 engines that offer power from 105 to 585kW.
Volvo Penta said its Stage V engine range for off-road applications had been developed with OEMs and end users in mind, delivering optimum productivity, uptime and total cost of ownership.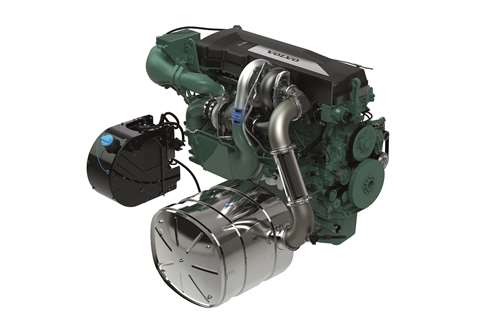 Volvo Penta will be showing its full range of engines at Bauma
Volvo Penta has responded to the introduction of the world's toughest emission regulation, Stage V for Europe, with a new range of engines that it said offered easy installation, operation and maintenance.
One major driver in the development of the new Volvo Penta Stage V range has been ensuring that the engines and exhaust aftertreatment system worked seamlessly together, it said. Among other benefits, this is said to maximise passive regeneration during normal operation and, therefore, to remove the need for stand-still regeneration, boosting customers' uptime, productivity and profitability.
In the D5 and D8 engines specifically, Volvo Penta has decreased cooling requirements by around 20%, meaning the size of the radiator can be reduced or power increased depending on customer need.
Yanmar has developed gas-powered industrial engines that use LPG (liquid petroleum gas) and meet US EPA Tier2, CARB Tier4 and EU Stage V emissions regulations.
It claimed two new clean burning and quiet industrial engine models in the 4TN88G – maximum output 45.0kW – and 4TN98G – maximum output 63.0kW. It also plans to introduce bi-fuel specification models that can run on both LPG and petrol.
Gas engines produce very little PM (particulate matter), it said, adding that they were comparatively quieter than diesels. It said this made them ideal for work indoors and in enclosed areas, where environmental concerns are a major consideration.