Bechtel opens new Saudi Arabia regional headquarters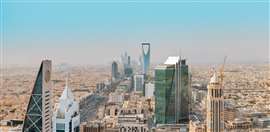 US contractor Bechtel has opened a new regional headquarters in Riyadh, Saudi Arabia, reflecting the scale of construction megaprojects underway in the country.
Bechtel is already working on several high-profile projects in the kingdom, including NEOM, Trojena, the Riyadh Metro Project and New Murabba.
The company, which celebrates its 80th anniversary working in the Kingdom this year, held a ribbon-cutting ceremony for the new headquarters yesterday (26 September). Bechtel's history in the Kingdom began in 1945 when it completed its first project, the Ras Tanura Refinery 1.
Craig Albert, president and chief operating officer at Bechtel, said, "This new regional headquarters reflects our strong and long-standing commitment to our customers and partners in the region.
"For 80 years, Bechtel has provided training and development opportunities for the local workforce and strengthened local businesses. We are proud to build on this progress as we advance these transformational projects together."
At the launch event, Albert was joined by Hassan al-Duhaim, senior advisor to Saudi Arabia's investment minister, and Abdul-Rahman Al-Ghabban, vice president at Bechtel Infrastructure.