Belarusian construction industry cools
By Sarah Ann McCay11 June 2014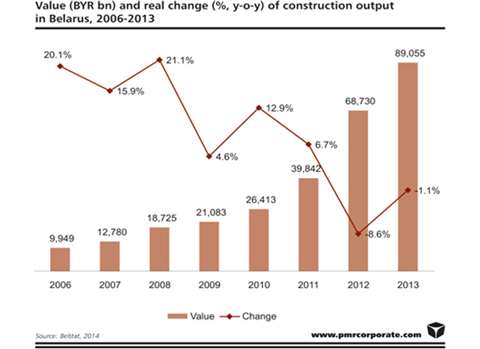 The construction industry was one of the key drivers of the Belarusian economy up until 2012, but this has declined along with state supported infrastructure development programmes, according to European market research and consulting company PMR.
PMR's latest report on the market, entitled Construction Sector in Belarus 2014 – Development Forecasts for 2014 to 2019, showed that the country's construction industry contracted by 1.1% year on year in 2013, after a more severe reduction of 8.6% in 2012.
According to PMR, the construction industry in Belarus was held back in 2013 by the civil engineering construction sector. Many new developments were postponed, which has ultimately delayed the expansion of the country's still struggling construction industry.
However, it is not all bad news. PMR reported that housing completions resumed an upward trend in Belarus in 2013, after two years of double-digit declines. According to preliminary data, the total floor space of residences put into use in 2013 increased by 17.6% to 5.27 million m² – the third highest result of the past two decades.
PMR estimates that the residential construction output surged by 16.4% in 2013, largely thanks to a low base effect created after a contraction of nearly 30% recorded a year earlier.
Non-residential construction in Belarus is carried out in much lower volumes than is the case with residential construction. After two years of decline, the non-residential construction output is projected to increase by 1.3% in 2014. According to PMR, retail is the most rapidly developing property market in Belarus.