Bell dump truck debut in Europe
By Sandy Guthrie23 March 2016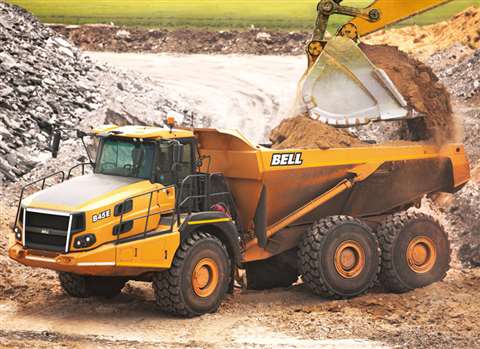 Bell Equipment will showcase its 59 tonne articulated dump truck – the B60E – outside Africa for the first time.
Introduced to the market in 2013 as the B60D, the truck took the two-axle concept of a rigid truck, but developed it with a driven front axle and independent front and rear chassis.
Bell Equipment's product marketing manager, Tristan du Pisanie, said, "By combining the ADT concept as we know it with the single rear axle, we came up with a unique machine configuration – a 4x4 with full articulation steering and oscillation joint and that gives us the ability to keep all four driving wheels on the ground and fully utilise the traction that's available."
The B60D has been tested alongside rigid trucks in Africa, and Bell Equipment claimed that, with its all-wheel traction and retardation advantage, the ADT was able safely to continue working in adverse weather conditions, with no loss in production.
Another Bauma debutant from Bell is the B45E, an ADT with a payload of 41,000kg a bin volume of 25m2, and a powerful new Mercedes Benz HDEP engine. As with Bell's smaller ADTs, the B45E will be fitted with an Allison transmission.