Bentley and Schneider build digital twin for Microsoft
By Leila Steed17 March 2020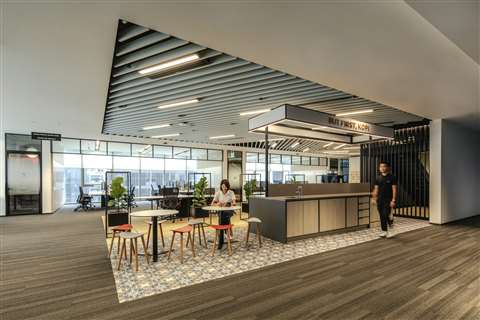 Software company Bentley Systems and French energy and automation specialist Schneider Electric have collborated on the rollout of a digital twin for Mircosoft's Asia Pacific headquarters in Singapore.
Ricky Kapur, Microsoft's vice president of sales, marketing and operations for the Asia Pacific region, said "At Frasers Tower in Singapore, we worked closely with Bentley Systems and Schneider Electric to implement sensors and telemetry to create a connected workplace, that allows us to adjust the space based on usage, therefore improving energy efficiency."
The virtual replica of the Microsoft's facility was developed using Bentley's OpenCities Planner and Microsoft's Azure cloud platform and Power BI analytics service.
The digital twin uses lighting, air quality and temperature data from inside the Asian headquarters, which is collected by Schneider from around 180 Bluetooth beacons and 900 sensors that were installed in the building, in order to monitor the usage, energy and utilities of the facility.
According to Bentley, physical environment data from the sensors, as well as from digital sources, can be used to build specific solutions and unlock new efficiencies, improvements and opportunities for buildings.
Kaushik Chakraborty, Bentley's vice president and regional executive for Asia South, said, "Digital twins are redefining how we manage infrastructure, from individual equipment installations to large facilities and entire cities.
"While smart buildings were developed to better manage energy consumption, we have come to realize additional strategic roles of dynamically allocating space, increasing utilisation, reducing costs, improving competitiveness, and enhancing collaboration and productivity."
To find out more about how virtual and augmented reality is being used in consturction then click here