Bentley's Year in Infrastructure event goes digital
By Andy Brown10 June 2020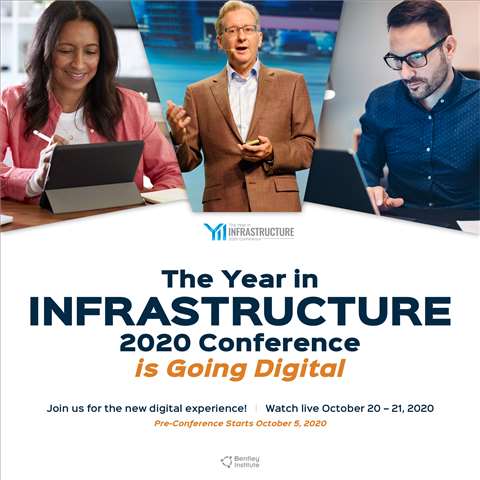 Bentley Systems has announced that its annual infrastructure event, the Year in Infrastructure 2020 Conference, is going digital.
The event was due to be held in the Vancouver Convention Centre, Canada, but due to the impact of Covid-19 will be held in a new digital format.
The virtual Year in Infrastructure 2020 Conference will provide complementary access to a wide range of content relevant to infrastructure professionals in every role and at every phase of the infrastructure lifecycle.
Events will include The Year in Infrastructure Awards finalists, chosen by independent juries of industry experts, present their projects to the judges beginning October 5.
The people behind the most extraordinary infrastructure projects of the year will tell the story of how they leveraged digital advancements to achieve unprecedented outcomes.
On October 20-21 Greg Bentley, CEO of Bentley Systems, will be joined by infrastructure executives for an interactive discussion on the resilience challenges they face and how to meet those challenges through digital advancement.
Keith Bentley, founder and chief technology officer, will discuss Bentley's open strategy for digital twins. He will be joined by other leading industry experts who have deployed digital twins successfully for project delivery or asset performance.
The event will also feature six specific talks on digital twins and on October 21, the winners of the Year in Infrastructure 2020 Awards will be announced.