Berlin networking
By Lindsay Gale20 March 2008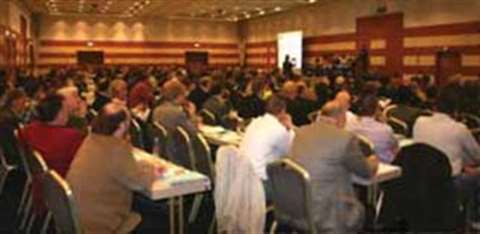 The annual German demolition conference, once again held in the Hotel Berlin, Berlin, proved a major draw for the demolition industry around Europe, with delegates attending from Austria, Belgium, he Czech Republic, Estonia, France, Hungary, Italy, Netherlands, Poland, Russia, Switzerland and the UK.
In a busy first day programme, more than 20 technical papers were presented in addition to a presentation by German demolition association president Walter Werner.
These covered a wide range of pics, ranging from examinations of current and forthcoming regulations and standards, the latest technologies and techniques for demolition activities through to safety concerns and site reports reporting on specific projects. Of particular note was one paper, which addressed the hazards to demolition workers from an unusual source - pigeon excrement.
A small 'table top' exhibition was put on in the corridors and rooms adjacent to the main meeting room that attracted displays from some 40 manufacturers, with exhibits covering demolition spec'd excavators and associated equipment, attachments of all kinds and other equipment and services relevant to the industry, Exhibitors included some big names - Volvo, Komatsu, Atlas Copco and Mantovanibenne to name just a few.
The dates for next year's event, to be held again in Berlin, have also been released. The two day event will again be held in the Hotel Berlin, but this time the dates will be the 29th February and 1st of March. Unfortunately, this year's conference did not feature simultaneous translation into English lish (only D&Ri was there from the UK), but the organiser, ASCO Gmbh, said that this will be provided should there be sufficient demand.
So if you fancy a high level, valuable educational event, then mark these dates in your diary - see you in Bertin.