Bespoke tractor - crane build
By Christian Shelton01 October 2018
In response to a customer request, Welsh farm machinery supplier David Evans Agri has mounted a Palfinger PK 19.001 SLD5 on to a Fendt 936 Vario tractor.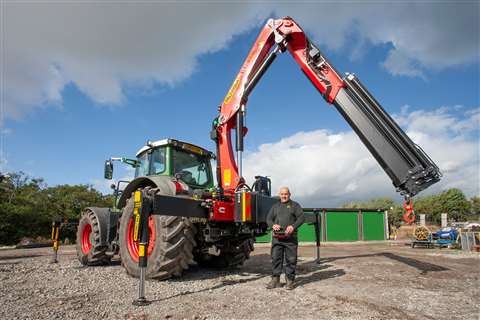 The custom build enables the user to detach the crane and auxiliary leg stabilisers when required, so that the tractor can be used with or without the crane or with other implements, as required.
The medium duty Palfinger PK 19.001 SLD5 has a four-extension C Boom with lifting capacity of up to 18.5 tonne metres and a 12.6 metre reach.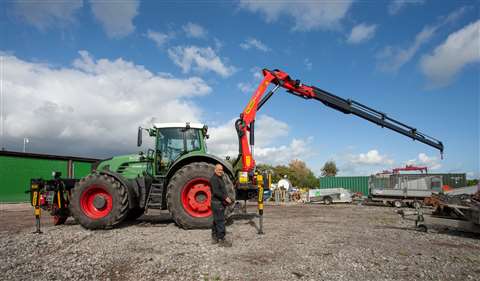 Additional front and rear Palfinger stabilisers provide increased stability on uneven terrain and extra support for heavier loads.
Les Drage, head of technical and sales at Palfinger UK, commented, "this was a special project with a significant amount of bespoke mechanical, hydraulic and electric interface work completed prior to dispatch from the Palfinger UK Devizes depot. We're pleased with the outcome and enjoyed working with David Evans Agri on this specialist project."
The customer, Mark Davis – owner of M&D Services in Port Talbot, commented, "I intend to use the tractor in my work with utilities providers mostly. In the countryside around South Wales very often these companies need to install poles, pipes and cables in areas which truck-mounted cranes can't reach, such as through fields or down tracks – my tractor mounted crane solves the problem and will open up more opportunities for me in those areas of work."
Mark Davis, owner of M&D Services in Port Talbot, with his new custom build tractor - crane