Big crane for small tunnels
By Alex Dahm17 January 2019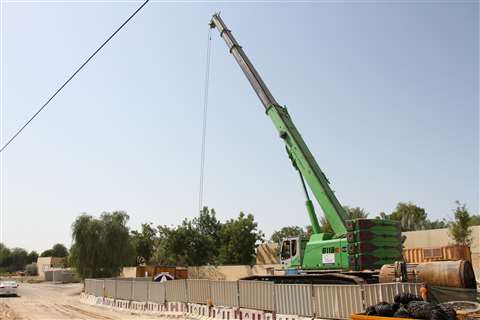 A 120 tonne capacity Sennebogen telescopic crawler crane was used on a long-term project building small tunnels in Dubai.
Where the United Arab Emirate of Dubai is expanding its built environment further into the desert, multiple micro-tunnelling projects are underway. Pipes are being inserted into the dry ground. A 120 tonne capacity Sennebogen telescopic boom crawler was chosen to lift the necessary equipment into and out of the vertical access shafts.
As host of the Expo 2020 new impetus will be brought to the region where industrial diversification will be vital in a move away from the economy's dependence on oil. Dubai has a population of more than three million and large numbers of tourists.
Trenchless pipe-laying to re-route existing pipelines is a crucial part of developing habitable terrain. The crane is being used to install 14 km of water pipes, sewage pipes and other supply lines into the ground in the Khawaneej area of Dubai, 15 km east of the international airport.
Difficult soil conditions and ambient temperatures above 50 °C are among the challenges for the equipment which was working there for more than two years.
Among other equipment, the drill head and the pipe-jacking machine, weighing up to 30 tonnes, had to be lifted into the shaft to start the tunnelling. The contractor, the National Plant company of Al Naboodah Group Enterprises, chose a Sennebogen 6113 E for the job.
With the drilling equipment lowered into place, the crane was then also used to lift the pipe into the shaft and to remove the excavated material.
Srinivas Badala, National Plant site supervisor, commented about the crane, "We are lifting constantly changing loads with different boom lengths. The machine is very flexible when it comes to adjusting – we can lift varying loads in a very short space of time, which really speeds up progress on site."