Big Scheuerle SPMT order from Schaften Cranes
By Alex Dahm27 September 2022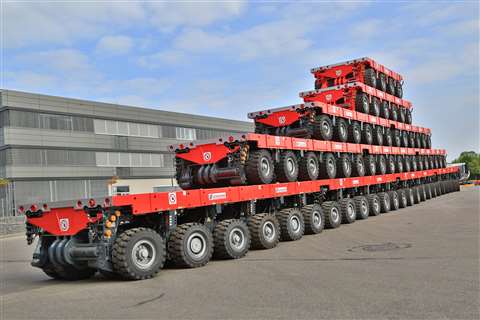 Dutch equipment leasing specialist Schaften Cranes is purchasing hundreds of axle lines of self propelled modular transporter (SPMT) from manufacturer TII Scheuerle in Germany.
It is the first foray into heavy transport equipment for the Dutch crane specialist.
Existing owners of Scheuerle SPMT around the world can now add to their fleets on a bare rental basis for particular projects. A high level of compatibility with fleets worldwide was one of the major factors in Schaften Cranes' choice of equipment, as were product quality and service, the manufacturer said.
In 2022 Rotterdam-based Schaften will buy 200 axle lines and another 200 will follow in 2023. "Further axle lines will follow in the years to come," Scheuerle said.
Wide compatibility
"Scheuerle SPMT are the standard," said Martijn Tuijtel, Schaften Cranes managing director.
Companies with Scheuerle SPMT can rent additional axle lines worldwide via Schaften Cranes allowing them to independently manage even larger projects that would not be possible when using just their own SPMT fleet, Scheuerle said. The worldwide high availability of the Scheuerle SPMT also ensures attractive project costs.
Under the bare rental agreement customers rent the equipment without operators. The hirer is responsible for insurance, maintenance and other operational costs. At the end of the rental period, the hirer can extend the term, return the equipment or purchase it.