BIMcert event highlights importance of digitalisation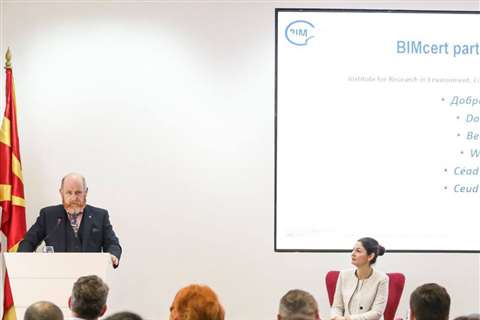 At the BIMcert conference, to be held on Wednesday, January 22, at Titanic Belfast in Northern Ireland, speakers will describe the need for the construction industry to understand and embrace the role of digitalisation in reducing carbon emissions.
The event, hosted by Belfast Metropolitan College – which has spearheaded the BIMcert project – will include speakers from around Europe, who will describe how construction companies have been empowered to join the Digital Transformation.
There are seven European partners on the BIMcert project including Belfast Met, CITB, NI, Technological University, Dublin, and Future Analytics, Dublin , IST Portugal, IECE, Macedonia and EIHP, Croatia.
Paul McCormack, the project's co-ordinator, said, "Digital transformation is impacting all sectors. However to date the construction sector as a whole has been hesitant to accept the digitalisation process. The BIMcert project successfully targeted the entire construction supply chain in order to stimulate demand for sustainable energy skills and to embrace digital transformation using Building Information Modelling as the key tool to drive change."
The conference will also seek to map a pathway for continued digital transformation actions the built environment and speakers from industry, public sector and EU bodies will highlight the challenges and opportunities for companies and individuals alike.
Ms Maja-Marija Nahod, Deputy Minister for Construction and Energy Efficiency, Croatia, will highlight how Croatia has embraced the outputs from the BIMcert project to deliver energy efficiency in the building sector, and the impact of making changes.
The Chair of the EU BIM task group, Souheil Soubra, will detail the advantages to be achieved as Europe seeks to develop a world class digital construction sector.
The conference will also examine how the entire energy circle is improving the energy performance in buildings, with Dr James Harty, Copenhagen School of Design and Technology, and Gordon Sutherland, head of sector EASME, speaking on the importance of the energy performance buildings directive and how these directives can be implemented to 2030 and beyond.