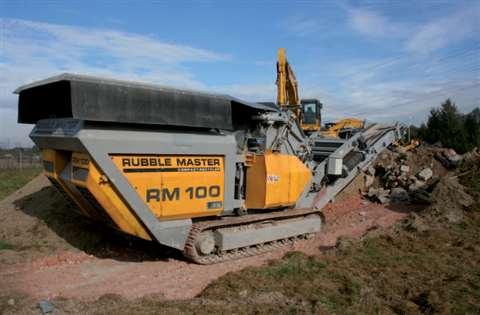 More than 250 customers, dealers and employees were treated to an open day at the Linz, Austria, Rubblemaster head office, where the two new machines, and others from the RM range of compact mobile crushers, were put through their paces. Managing director Gerald Hanisch also outlined the expansion plans the company has put in place to increase its production capacity and handle the high demand it is currently seeing for its products, and the demand it expects for the two new machines.
The new RM100 is a 28 tonne mobile impact crusher available with either two or four hammers. It has a throughput capacity of up to 200 tonnes/hour depending on the material being fed into it and is powered by a 181 kW low noise and emissions John Deere diesel.
Noise and dust levels from the crusher are low, and together with the latest generation quiet diesel, this means that the RM100 can be used in urban environments with the minimum disturbance to surrounding environment.
"Low noise, low exhaust emissions, low costs - this is where we want to place this product on the market. It's an inner city crusher," said Mr Hamisch. The company told iC it expects to sell more than 100 units per year of the new RM100.
Optimised crusher kinematics and use of new wear resistant and efficient crusher materials help keep wear costs well below the average, says Rubblemaster. Low fuel consumption, between 20 and 22 litres per hour also help keep running costs down.
Control of the RM100 is achieved via a remote control, which can be operated from the feeding wheeled loader or excavator. The crusher housing itself can be opened in just a few minutes, says Rubblemaster, and the impact hammers are also easy to change over by one person.
First screen
The TS3600 is Rubblemaster's first mobile screen. In the past screen attachments were available for its crushers, but the higher throughput of the RM100 demands a dedicated screen solution.
This mobile double deck screen can be fed direct by an RM80 or RM100 crusher, or by a wheeled loader and has a maximum throughput of 200 tonnes/hour. Weighing in at 15.5 tonnes and with compact dimensions, it can be transported without any special permits and can be made ready to work on site in 10 minutes.
Radio controlled on the move, one person can operate the TS3600. The angle of the screen box can be hydraulically adjusted to ensure optimum performance, as is the case with the long discharge conveyor to allow for high spoil heaps. Power comes from a 48 kW Deutz diesel engine.
Initially only available in Austria and Germany, the company predicts that the full international launch of both machines will be by the end of this year.