Bobcat debuts new V519
By Lindsey Anderson25 October 2016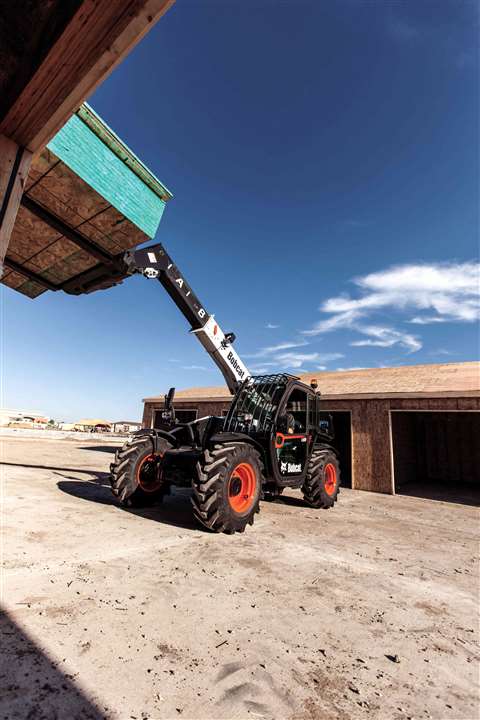 Bobcat Company has introduced its new V519 VersaHandler (also known as a telehandler). The unit has a 10-foot reach, lift height of 19 feet and maximum lift capacity of 5,500 pounds.
Designed with a standard 2-speed hydrostatic drive system, the V519 is suited to operate standard and hydraulic-powered attachments. As V519 operators lift their foot off the pedal, the machine comes to a stop. In addition, the automatic parking brake engages anytime the engine idles when it is stopped (in neutral) — an exclusive feature of the V519 — to avoid unintentional movement.
When V519 operators need full auxiliary hydraulic flow without full travel speed, a speed management feature allows operators to dial in a percentage of the normal speed. Operators can adjust the desired travel speed with plus and minus buttons, located on the joystick. This feature helps operators using hydraulically powered attachments. Available for the first time in a Bobcat telehandler of this size, the Bob-Tach attachment mounting system provides a mechanism for quick attachment changes.
Like other Bobcat compact equipment, the V519 is a versatile attachment carrier and is approved for use with a number of standard and hydraulic-powered Bobcat attachments.
An enclosed cab with heat and air conditioning is standard for V519s. Automotive-style vents allow operators to point the air where they need it. Operators can adjust the steering column with the tilt steering feature to meet their desired height. In addition, a three-way cloth adjustable suspension seat is standard.
A Bobcat display panel resembles panels installed in Bobcat compact loaders and compact excavators. The panel displays common items such as a job clock, fuel level, service clock, engine coolant temperature and hour meter. An optional keyless start system (kit) is available for the V519 to deter unauthorized use and theft.
For enhanced performance and productivity, the V519 comes standard with turn signals, road lights and work lights. Right and left side mirrors, as well as front, top and rear windshield wipers provide enhanced visibility for the operator in the cab. A backup alarm is standard to alert workers and bystanders when the V519 is in reverse.
A Bobcat D34 Tier 4-compliant diesel engine provides 74 horsepower for the V519. The Bobcat engine does not require the use of a diesel particulate filter (DPF) to meet Tier 4 emission standards. Similar to Bobcat compact loaders under 74 horsepower, the diesel engine utilizes a high-pressure common-rail fuel system and a diesel oxidation catalyst (DOC). An economy mode or "eco-mode" is available to reduce fuel consumption in applications that do not require as much power, such as light grading.