Bobcat enhances breaker offering
By Lindsay Gale14 April 2009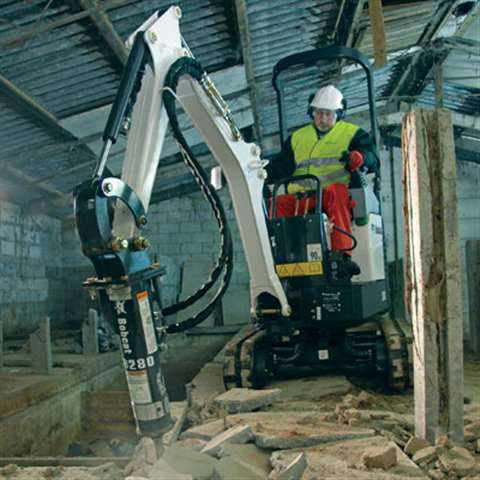 ,
Bobcat has now approved the use of its HB880, 980 and 1180 80 series breakers on the new E55W wheeled and E60 tracked excavators, using pin-on, Klac or Lehnhoff mounting systems. In addition, the company has announced that at the other end of its breaker range, the smallest (HB280) now is fitted with the same modular fixing cap system used on the rest of the 80 series and can now be used on the E08 and E10 microexcavators.
The HB880 weighs in at 232 kg (510 lb) and has a maximum blow rate of 1,150 bpm on soft ground and 1,310 when working on hard ground. The HB980 weighs 268 kg (590 lb) and offers maximum blow rates of 1,060 and 1,450 pbm respectively. The HB1180 weighs 386 kg (849 lb) and has blow rates of 1,070 and 1,280 bpm.
Bobcat says that its 80 series breakers feature an innovative hydraulic system design that provides increased efficiency to ensure a longer working life, as well as an effective soundproofing system, with the striking assembly being held top and bottom by suspension systems that are not in contact with the outer cylindrical housing.