Boels reveals €551 million investment
By Leila Steed09 June 2023
Long-term growth expected for the construction equipment rental market, the company says.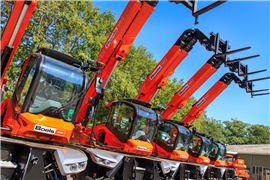 Last year saw Boels Rental spend a total of €551 million on "broadening and expanding" its rental equipment range, the company has revealed. 
Now comprising a staggering 840,000 items, 81% of which are said to be electric powered, Boels claims it is the largest rental fleet in Europe.
Much of the €551 million has been invested in construction equipment that incorporates new battery, electric and hybrid technologies, as customers seek to meet new and changing government regulations and Net Zero targets by lowering their carbon footprint.
A significant portion of the funds has also been focused on digitalization, with Boels adding more machinery with Internet of Things (IoT) capabilities.
According to the company, which in the past two months alone has expanded through acquisitions in Sweden, the UK and Norway, the ongoing shift towards renting equipment rather than buying it means that the long-term outlook for the rental market is not only remaining strong, but is also expected grow.
Pierre Boels, CEO of Boels Rental Group, said, "A growth in supply helps our customers to increase their productivity. As a result, they can then achieve their goals in the areas of safety, efficiency and sustainability."
Just last month the Netherlands-based rental giant published its full year financial results for 2022, reporting growth "in all geographical markets and across the board of market segments, including construction, infrastructure and industry."
During 2022 the company saw an 11% increase in its revenues, bringing in almost €1.5 billion, with EBITDA profits up 9% to €525.4 million.