Bottling up with electric Genie
By Euan Youdale16 November 2016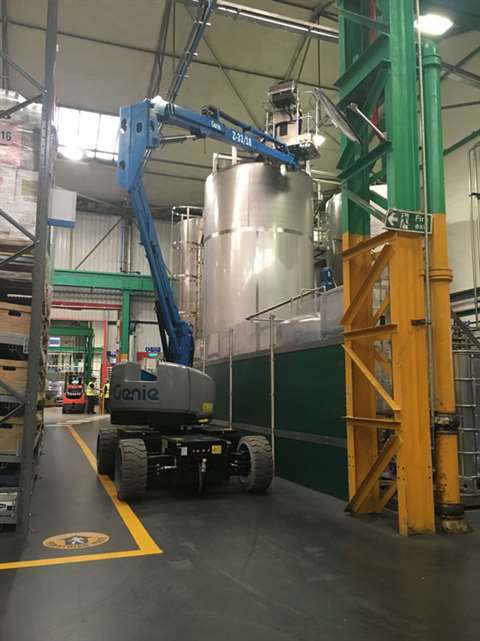 County Durham, UK-based wine bottler Greencroft Bottling and sister company Lanchester Wines share a number of large sites and warehouses in the North East of England.
Earlier this year, Greencroft Bottling sought a solution to deal with indoor and outdoor general maintenance and refurbishment duties for both its site and those belonging to Lanchester Wines.
To carry out the duties they acquired a Genie Z-33/18 boom lift, having relied on rented machines previously which proved unsatisfactory due to inconsistencies caused by different machines, with different specifications. "This made it hard for our operators to become familiar with the equipment which often tended to cause delays," said Richard Lewin, assistant logistics manager for Lanchester Wines who maintains the equipment on behalf of Greencroft Bottling.
Housing consumer goods in bonded warehouses, the facilities of both Greencroft Bottling and Lanchester Wines are subject to audits on an ad-hoc basis that means that the slightest anomaly can cause production to be stopped. "This can mean up to 24 hours before we are running again, so any repairs need to be handled immediately," said Mr Lewin.
Lanchester Wines approached Genie dealer Workplatform, which recommended a Genie Z-33/18 boom. The Genie Z-33/18 is an electric unit powered by an AC drive system providing the ability to perform a full day's work - both indoors and out - on a single battery charge. In addition to its reduced weight of 3.640 kg, the Genie Z-33/18 lift boasts a total occupied floor pressure of only 991 kg/sq m and a low tyre contact pressure of 483 kPa.
Sharing around 50% of its time indoors and out between refurbishment duties near Gateshead, and maintenance tasks at the two businesses' other sites, the company chose to equip its Genie Z-33/18 boom with optional multi-surface non-marking tyres adapted to fragile floors and sensitive outdoor surfaces.
Performing routine tank inspections to maintain Greencroft Bottling's AAPlus BRC rating are among the unit's multiple tasks. Thanks to a tight inside turning radius of 1.9 m (6ft 3in) and a narrow width of 1.5m the Genie Z-33/18 manoeuvres well up and down the narrow standard 2-m gangways, reaching up and over the top of silo tanks holding substantial quantities of wine.