Bouygues invests in hydrogen energy
By Andy Brown20 October 2020
A Bouygues Construction investment vehicle for start-ups has signed an agreement to purchase a stake in PowiDian, a specialist in 'green' hydrogen solutions for regional energy self-sufficiency.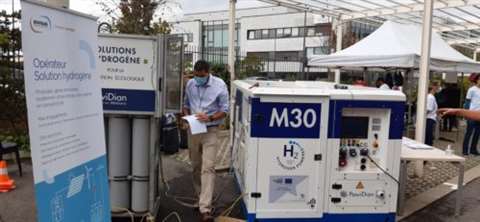 PowiDian operates in the energy transition sector and develops 100% renewable power generation solutions for isolated sites that are not connected to the power grid. Its generators work with all types of renewable energy.
Energy storage takes the form of green hydrogen produced by electrolysis – the energy is then restored when required through a fuel cell. PowiDian has developed the MobHylpower range of zero-emission hydrogen generators.
The investment has been made by Bouygues Construction and Bouygues Energies & Services, which operates in the energy and digital transformation of regions, industries and buildings.
Jean-Marie Bourgeais, CEO of PowiDian, said, "This investment in our equity is combined with an ambitious commercial agreement that will allow us to significantly accelerate our development."
Bouygues Energies & Services provides a range of services based on green hydrogen in France and a number of other countries. The company says that this investment agreement and partnership contract provides the structure for a co-development strategy, which will enable it to broaden its range of green hydrogen-based solutions to address customers' energy challenges.
This offer strengthens the positioning of Bouygues Construction's Energies and Services division, whose subsidiary Kraftanlagen has already been active for some years in the green hydrogen market in Germany and Switzerland.
Maxime Merolle, head of products and new technologies at Bouygues Energies & Services, said, "Our customers' needs and expectations are very much focused on environmental issues. Green hydrogen has a key role to play in the decarbonation process. PowiDian's proven expertise in the hydrogen market and its platform for the testing and qualification of equipment, which is unique in Europe, will be major assets in our company's service offering in this emerging market."