Bowmer + Kirkland joins 'world's largest wind farm' project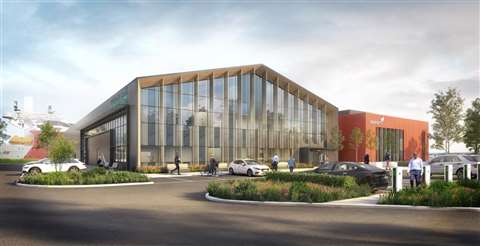 Bowmer and Kirkland (B+K) is to build the operations and maintenance base for what is said will be the largest offshore wind farm in the world.
B+K, which provides construction services for projects valued at between £1m and £130m, was named as principal contractor for the new net-zero-carbon facility by project by Dogger Bank Wind Farm owners Equinor, SSE Renewables and Eni.
While the wind farm is currently being built more than 130km off the North East coast of England, its new 3,400m2 operations and maintenance facility, which will house some 200 Dogger bank workers, will be constructed east of Newcastle at the Port of Tyne.  
B+K Project Manager, Liz Wilson, said, "Our region is immensely proud to be representing Dogger Bank for this new development that will attract some of the region's leading professionals.
"It is fantastic that we have been successful in our bid for this high-profile project and that we are able to provide support and sustainability to our region and local supply chain especially after the last 18 months."
B+K will carry out detailed design and building works for the new facility, which will comprise office space, a large warehouse for spare parts storage, a car park, an HGV yard and an outside recreational area.
Works on the net-zero-carbon building, which will be situated on a 1.82-hectare site at the former McNultys Quay in Corstorphine Town, South Shields, are expected to start later this year and end in Q3 of 2022, "ahead of wind farm operations starting in 2023".
B+K, which employs around 1400 staff at its headquarters in Derbyshire and has office branches in a number of UK cities and in the US, will manage the project from its office in Sunderland near the Port of Tyne.
Designed by Newcastle-based Ryder Architecture, the operations and maintenance base will be built from "low carbon materials and will meet the highest energy efficiency classifications" thanks to installation of Solar PV panels for onsite renewable generation, and electric vehicle (EV) charging points for staff and visitors.
Dogger Bank Wind Farm Director, Steve Wilson, said, "With its low carbon materials, solar panels and EV charging points, we hope this locally-designed base will help inspire future developers as the UK continues on its journey to net zero."
About Dogger Bank Wind Farm
According to Equinor, completion of Dogger Bank Wind Farm will generate around 5% of the UK's electricity.
It is being built in three stages with real estate advisor CBRE as the project manager.
CBRE, said, "Dogger Bank A and B, owned by Equinor, SSE Renewables and Eni, will feature 190 Haliade-X 13 MW turbines, scheduled to deliver first electricity in 2023.
"Dogger Bank C, owned by Equinor and SSE Renewables, will comprise 87 GE Haliade-X 14 MW units, according to the project's manager global real estate advisor CBRE."
Halfdan Brustad, Vice President for Dogger Bank at Equinor, said, "With the capability to generate electricity for millions of homes, Dogger Bank Wind Farm is being built on a scale never been seen before in offshore wind.
"The project will make a real contribution to decarbonising our electricity system, and help the UK meet its net zero targets."