Braden unveils new synthetic rope
The new TRS synthetic rope from Braden is engineered and tested to complement TR series planetary recovery winches, which have rated line pulls from 12,000 to 30,000 pounds.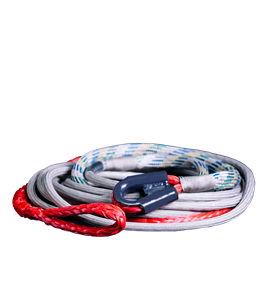 Four times lighter than comparable sizes of steel cable, the twelve TRS synthetic rope options help mitigate the overall weight of essential utility and service truck equipment, especially when paired with lightweight Braden UBL or UBX winch bumper systems. As vehicle manufacturers continue to explore BEV technology, it will become increasingly important to minimize the weight of accessories to balance the overall GVWR, the company said.
The TRS line features a UHMPE 32-carrier urethane coated braided sleeve over a Vectran LCP (Liquid Crystal Polymer) 12-strand inner load bearing core. Each rope is outfitted with two eye splices: one for anchor wedge attachment to the winch drum and one on the outer end with a thimble spliced into the eye with a UHMPE protective chafe layer at the throat of the splice. A Braden synthetic rope anchor is required for proper installation on the winch drum.
TRS synthetic rope is non-crushable, abrasion resistant, easy to inspect and torque neutral, which means it will not twist and is much easier to handle than wire. It is available in rope diameters from 7/16 inches to 5/8 inches and lengths from 80 to 210 feet.